Secrets to writing a winning job estimate
You may be the best at what you do, but if you're not beating your competition with the best job estimate, guess who wins the job?
Hint: It's not you.
While price does play a big role in a winning job estimate, it's not an automatic clincher. Customers are often willing to pay more for quality work or peace of mind, but if it's the first time you're working with a customer, you've got some convincing to do.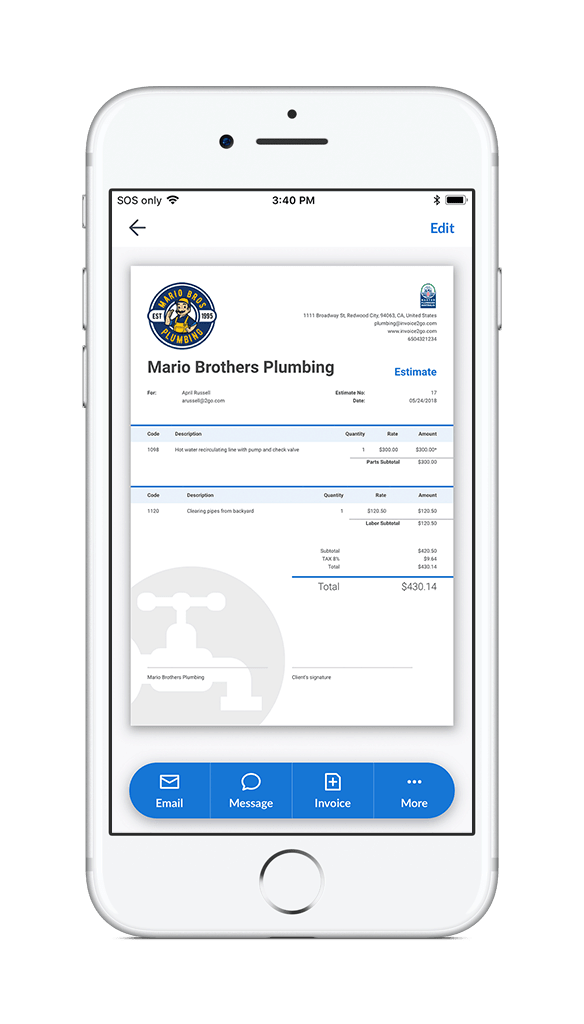 Use your job estimate to make a professional impression
Your template should reflect the professional image you want to convey. Spend the time to customize your quote template by adding your logo, your brand colors, and any industry accreditation logos to the header to show you're the real deal.
Get it done quickly
Creating and sending your job estimates online is the fastest (and most professional) way to get it done. After you meet with the client, prepare your estimate, and in minutes, you can have it in their inbox, beating your competition to the punch. The early bird really does get the worm.
Make it crystal clear
Itemize everything. List and price each part or production step separately. Transparency breeds trust and tips the scales further in your favor. Besides being transparent with itemizing, be clear about payment terms right on your job estimate. Use simple wording, like "days to pay" and bring it up when you first discuss the estimate.
Add a deposit request to the estimate
As a small business owner, asking your clients for an upfront deposit is one of the smartest things you can do. Deposits can help cover out of pocket expenses, improve your cash flow, lower the risk of unpaid invoices, and get the job started faster. In fact, our customers who are now asking for a deposit upfront through Invoice2go, a Bill.com company, are closing 11% more jobs than they did before.

Make it easy to pay
Your job estimate gives you a chance to communicate how payment works, before you even get started. Don't risk losing a job because you don't offer the payment option your customer wants. Show you are flexible and accept all the modern ways people expect to pay. You can display a wide range of payment options on your Invoice2go estimate and can accept payments online or in person right from the app.
Give them less reasons to say no, and more reasons to say yes
No matter how competitive your pricing, you'll always have some customers who aren't ready to take on the cost of your project. Offering customer financing helps take the sting away by giving them monthly payment options, and also makes it easier to say yes to larger projects. We've found that small businesses offering financing win 23% larger jobs on average. We've recently partnered with trusted lenders so you can offer affordable financing to your customers, at no cost to you. You can offer financing right on the job estimate so it's firmly in your client's consideration set.
When you master the art of the job estimate, you're establishing trust and credibility right off the bat. Your new problem could soon be a full schedule, which is a pretty good problem to have.