6 sustainable small businesses you should know
Amid forecasts of the apocalyptic scenarios that await us if we don't act now to solve the climate crisis, it's hard not to feel helpless. But while big corporations and governments have the most power to effect large-scale, systemic change, individual choices still matter. 
One important choice you can make as an entrepreneur is to weave sustainability into the fabric of your small business. Besides minimizing your environmental impact, adopting sustainable practices can also help maximize your profits, given that consumers are increasingly demanding it. A report from global strategy and pricing consultancy Simon-Kucher & Partners found that 60% of consumers consider sustainability a top factor in their buying decisions. 
Need some inspiration to help you get started? Here are the stories of 6 entrepreneurs who not only built businesses from scratch, but went the extra mile to make them sustainable, too. 
Knotzland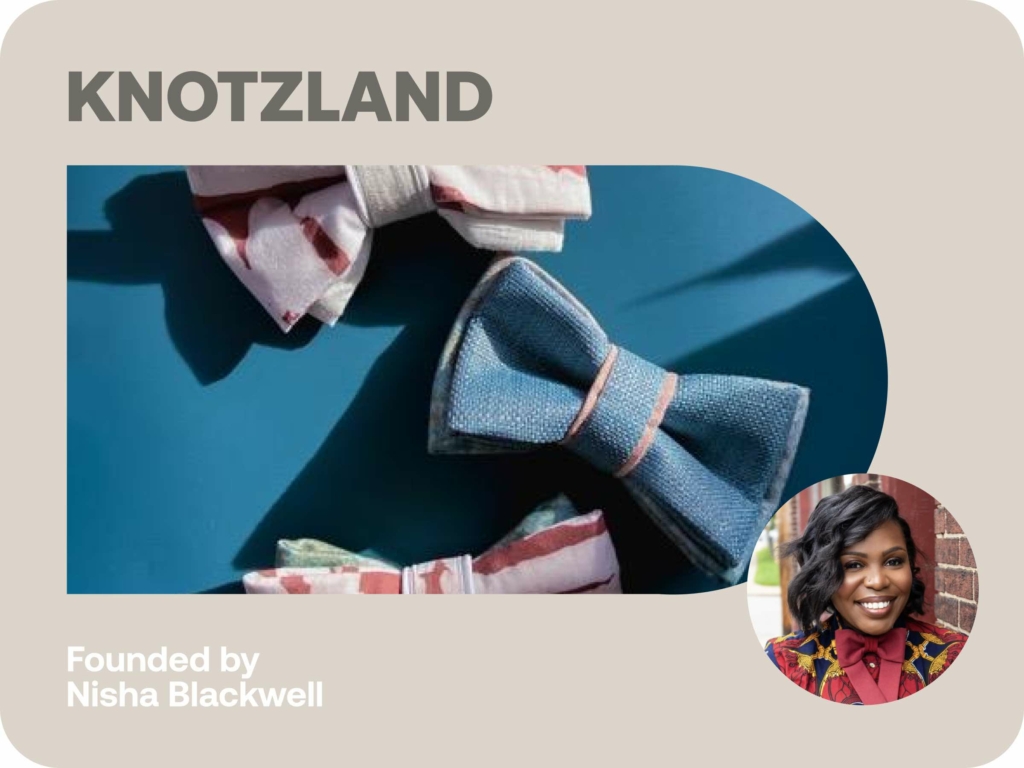 Website | Instagram | Twitter | Facebook 
Nisha Blackwell was in nursing school when a hair bow she sewed for a friend's daughter's birthday changed her plans. The birthday party guests requested not only hair bows, but also items for boys, which inspired Nisha to try her hand at bow ties. The customers she'd gained not only kept her financially afloat (she'd just lost her job at a coffee shop), but convinced her to take a hiatus from nursing school to explore entrepreneurship. 
"I knew it was risky… but I just went for it," she tells Invoice2go, a Bill.com company. 
After her research revealed the menswear market's growth potential, she successfully pitched a business plan to an accelerator, and got mentorship and seed funding to start building Knotzland, a Pittsburgh-based studio that makes artisan bow ties with discarded textiles, in 2015.  
Nisha grew her business her way, at her pace. Unlike many of her peers, who were still in college and could stay at the accelerator all night, she had to juggle her time developing Knotzland with multiple part-time jobs. And since she didn't have a big marketing budget, she had to forge meaningful relationships to find her customers, collaborating with other artists and creatives on projects, for instance. But this authentic grassroots approach has paid off – she credits what many refer to as Knotzland's "cult-like following" to the community cultivated around it. 
Knotzland sources the discarded textiles for its bowties from artists, thrift shops, upholstery stores, and more. But Nisha's commitment to sustainability began years before she started her business. "I grew up in a household and in a world where we did not have a lot, so we had to use things to their maximum potential and find new uses for things before they exited the life cycle," she says. As she learned more about the toll each stage of a garment's lifecycle takes on the environment, she wanted to practice sustainability with intention, not just out of necessity. She bought a sewing machine to mend items and taught herself to use it, starting with hairbows. 
In contrast to fast fashion's unethical treatment of workers, Knotzland pays the approximately 30 women in its Sewcial Network an average of $54 an hour to sew Knotzland garments from home. The concept of the Sewcial Network stemmed from Nisha's desire to not only leverage remote work to free up time for creatives to focus on their passions, but also build a hyper-local, community-centric production model. 
In Nisha's dream world, Knotzland would have a bigger showroom studio that serves as an employment and workforce development hub, as well as more resources for Sewcial Network members. It would also rescue 1 million pounds of fabric from landfills. (For now, that figure hovers around 6,000.) Whatever comes next, she wants Knotzland to stay true to itself. "I just want us to continue to… grow in a way that is thoughtful, meaningful, and intentional," she says. 
Goldune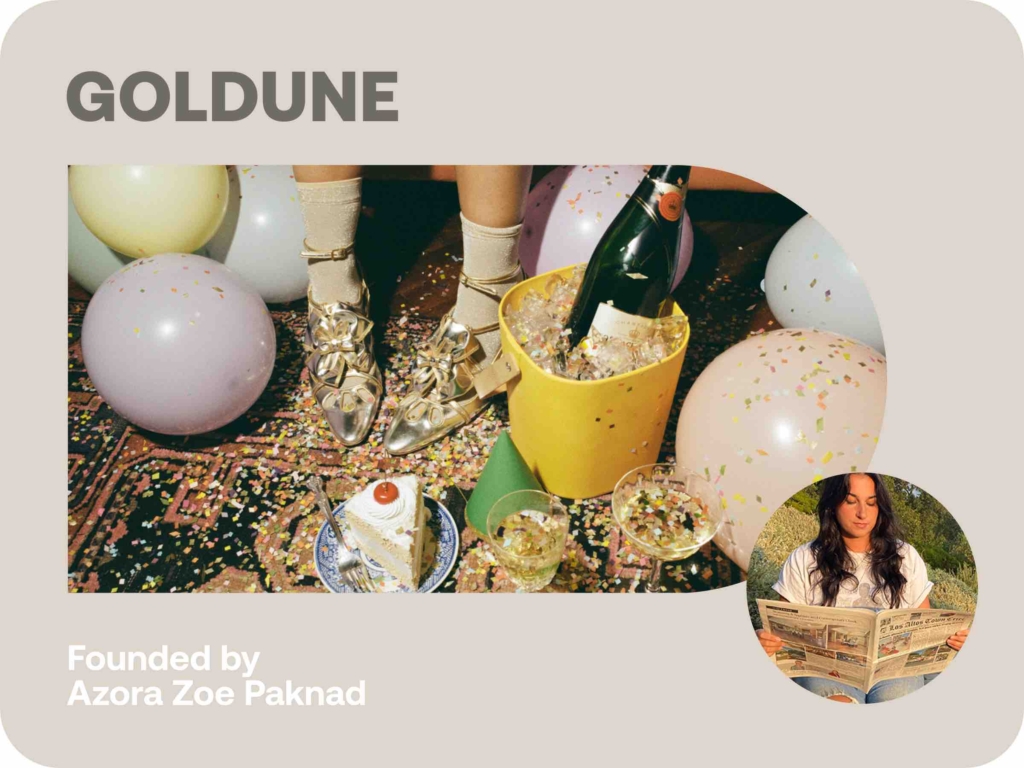 Website | Instagram | Twitter | Facebook
Azora Zoe Paknad believes the sustainability movement needs a makeover. A moral imperative had drawn her to it – not the dour, burlap-and-Birkenstock aesthetic or the gatekeeping she encountered. 
"It became super clear to me, particularly in 2020 when we were having national conversations about inclusivity, privilege and access, that those lifestyles were out of reach – whether financially or culturally – for most people," says Brooklyn-based Azora Zoe. No one seemed to speak to them about sustainability in ways that resonated with or accepted them. Instead of inviting them to get curious about changing their lifestyles, the movement often sought to shame them into doing so. 
"If we want to get more people excited about a sustainable lifestyle shift, that shift should feel easy, fun and sexy," Azora Zoe says. "Better, more inclusive, more appealing design makes room for more people to sit down at the table." Her online home and lifestyle marketplace, Goldune, does just that. Everything from its branding to its products (all of which meet the company's sustainability criteria) radiates exuberance. 
Goldune also embodies inclusivity in the small businesses whose goods it carries – prioritizing those that are women- and BIPOC-owned – as well as the content and community it provides for those who lack the means to shop sustainably or still feel hesitant to make the leap. Goldune's blog, Planet G, makes sustainability accessible and digestible, while its Facebook community  and book club allows members to talk about climate change, free of shame and judgment. 
Azora Zoe launched Goldune after leaving a job at home and kitchen retailer Food52. Although she didn't plan to start a business, she was obsessed with the concept of Goldune. With little else to do mid-pandemic, she buckled down and built her business, launching it in October 2020 – only three months after coming up with the idea – and growing it entirely through word-of-mouth and earned media. About a year later, she made her first hires.
But by February 2021, she didn't feel like Goldune was doing enough for the climate. So she and her team started a circularity program that allows consumers to sell back, trade up, or responsibly dispose of their Goldune purchases, reimagining the notoriously wasteful retail model. 
While Azora says Goldune remains "extremely lean," she has big dreams for it. "I want to get millions of people excited about and engaged with sustainability for the first time," she says. "I want to redefine what you envision when you think of sustainability. And I want you to have an instant association with Goldune when you think about sustainability and home."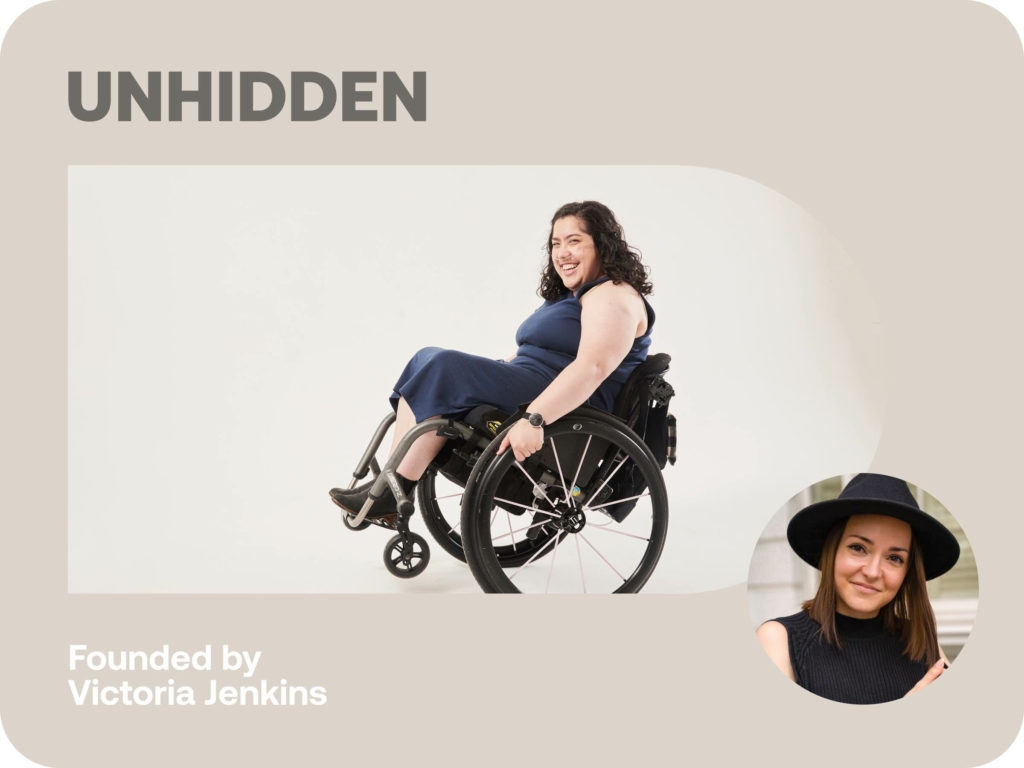 Website | Instagram | Twitter | Facebook 
Victoria Jenkins discovered her passion for fashion as a kid, when she noticed the happy glow grown-ups exuded when they got dressed up. As a teen, she gravitated to bridal wear and the concept of a gown tailored to a bride's shape. But when the UK-based garment technologist became disabled in her early 20s, her focus shifted from the possibilities fashion afforded to the dearth of designs for people with disabilities – and her quest to create them herself. 
During a 2016 hospital stay, Victoria met an ovarian cancer survivor whose treatment had left her with stomas, medical lines, and feeding tubes that made dressing herself challenging and forced her to completely strip down for medical exams. Her only options were loungewear and PJs. Other than Tommy Hilfiger's adaptive collection, what few adaptive designs existed prioritized function over fashion, and catered to caretakers rather than people with disabilities. 
"Non-disabled people can shop in thousands of stores," Victoria says. "The same is not true for people like me. Of course we have all been 'making do' for years, but that's not acceptable to me." She began researching and developing adaptive designs – which have zippers, concealed openings, and other features that adapt to wearers with disabilities – from her hospital bed.
In 2017, she registered her adaptive clothing label, Unhidden, as a business and quit her fashion industry job to grow it, launching it in November 2020. She's supported it with her own funds, as well as those from her mother, two stakeholders, and a crowdfunding campaign she ran last year. 
For Victoria, making Unhidden sustainable was essential. "It's well-known the fashion industry is one of the biggest contributors to pollution and climate change – both of which negatively impact marginalized groups first," she says. "I could not be part of that system." 
Unhidden creates stylish, timeless capsule collections – which include tops with front zips for port access, for example, and pants made for wheelchair users – using leftover fabric from textile mills, or deadstock fabric. Once Victoria begins producing scraps from her own operations, she plans to turn them into labels or scrunchies, or donate them to students. She also wants to host workshops on upcycling clothing into adaptive wear. 
While she's seen more adaptive labels crop up since she started Unhidden, "the fashion industry has not changed its stance on disability inclusion," she notes. The knowledge that her own industry refuses to take her seriously, though isolating, hasn't stopped her. "These things take time," says Victoria, who also collaborates with other adaptive designers and inclusion consultants on campaigns. "It is going to take a whole lot of us for meaningful change." 
Urban Native Era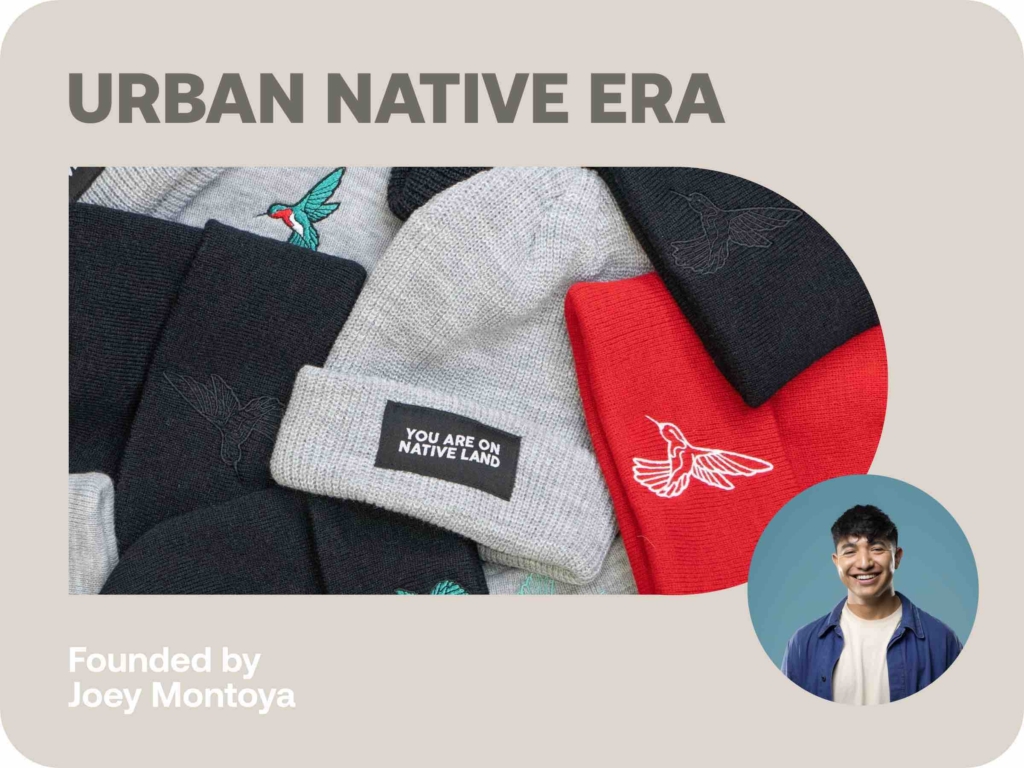 Website | Instagram | Twitter | Facebook
The beginnings of Indigenous-owned fashion and design brand, Urban Native Era, stretch back to the Idle No More movement, spurred in 2012 by Canada's passage of legislation that removed environmental protections from First Nations ancestral lands and infringed on their treaty rights. Joey Montoya, a 19-year-old San Jose State University freshman at the time, started posting his photos and videos of the movement on social media to raise awareness of Indigenous issues.  
But Joey, who's Lipan Apache and grew up in San Francisco, found himself drawn to other creative outlets, too, including fashion. "I didn't know too much about fashion, but I knew it had a huge influence on today's society," he tells Invoice2go. "If I could push Indigenous issues through clothing, I knew I could reach a wider audience." With the $2,000 he'd saved from a high school job, he launched Urban Native Era, selling clothing at powwows and school events. 
A decade later, what began with Joey shipping orders from a garage and his mom's house in the San Francisco Bay Area has since grown to a team of nearly 10 in Los Angeles. In January, REI began carrying the products the brand is perhaps most famous for – beanies, hoodies, and other apparel emblazoned with a necessary reminder: "You are on Native land." 
Urban Native Era reached another milestone in 2020 when it brought on Chantel Ricks as Sustainability Lead and Distribution Director. In May of the following year, the brand released the SOVEREIGN collection, its first to focus on sustainable materials, including bamboo fabric and recycled paper buttons. Urban Native Era – already at work on other eco-friendly collections – also minimizes the impact of its shipping process by using 100% post-consumer content paper, water-based ink, paper tape, and other climate-conscious packaging materials. 
Despite the evolution of Joey's business, its mission to heighten Indigenous visibility through fashion and design hasn't changed. "When I imagine someone wearing our products, I imagine them to feel proud and seen in the fashion industry," he says. "We hope that people begin to include Indigenous people within every industry and that we can open these doors." 
Driftaway Coffee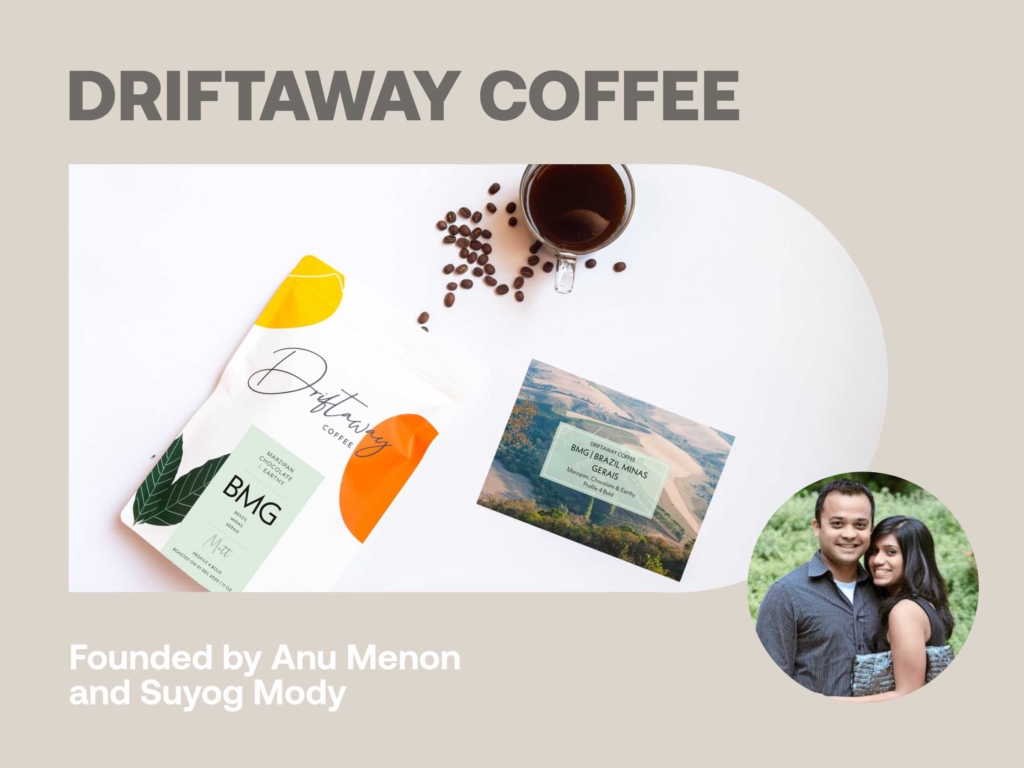 Website | Instagram | Twitter | Facebook
Anu Menon and Suyog Mody were working at a digital marketing agency for Fortune 500 companies in 2012 when the couple started to feel restless. Inspired by Steve Jobs's Stanford commencement speech, which they watched over wine on a date night, they wanted their work to make a difference. After testing a few ideas, they decided on a sustainable coffee subscription service, which they named Driftaway Coffee  – a nod to the distances coffee travels and the momentary escape offered by the morning coffee brewing ritual they loved.
New subscribers start out with an Explorer Kit of five coffees from around the world and send their notes to Driftaway, which curates monthly boxes based on their feedback. The company sources and roasts the beans themselves, and ships them within 24 hours of roasting.
Initially, Anu and Suyog self-funded Driftaway. Fast-forward a decade, and now their customers fund their company, which has grown to 28 employees. Without investment dollars to find customers, marketing has posed the biggest challenge, Suyog says. The team's approach is to test a few channels and ensure those that show promise function well, which is what they did for their blogger outreach, affiliates, SEO, and social media. They don't run any paid ad campaigns. 
Within a few years of launching, climate change was in the news cycle and conscious capitalism at the forefront of the co-founders' minds. "We felt that, at the very minimum, we should measure and minimize our impact on the environment based on our company's activities," Suyog says. 
The sustainability practice he's most proud of implementing is Driftaway's compostable packaging. "From a consumer standpoint, it's either the full bag goes in compost, or none of it does, so we had to make sure it was 100% there," he says. Driftaway also offsets its carbon emissions by supporting the Alto Mayo Protection Forest project in Peru. Ultimately, Anu and Suyog hope to go completely carbon-neutral. 
They also consider their human impact as part of their sustainability commitment. Driftaway pays farmers above Fair Trade prices, and shares exactly how much on the pages for each coffee variety it sells. Since Driftaway team members' conversations with farmers revealed their worries about climate change shifting how and where they could grow coffee, the company began donating 5 cents of every pound of coffee roasted to World Coffee Research, an organization that improves the lives of farmers while making coffee a more resilient crop. 
"It's our responsibility to sustain our ecosystem of people we work with – employees, farmers, everyone we interact with, and ourselves as well," Suyog says. "Historically, coffee has a lot of inequality between producing and consumption countries. We want to be a part of fixing that." 
CIRCULAR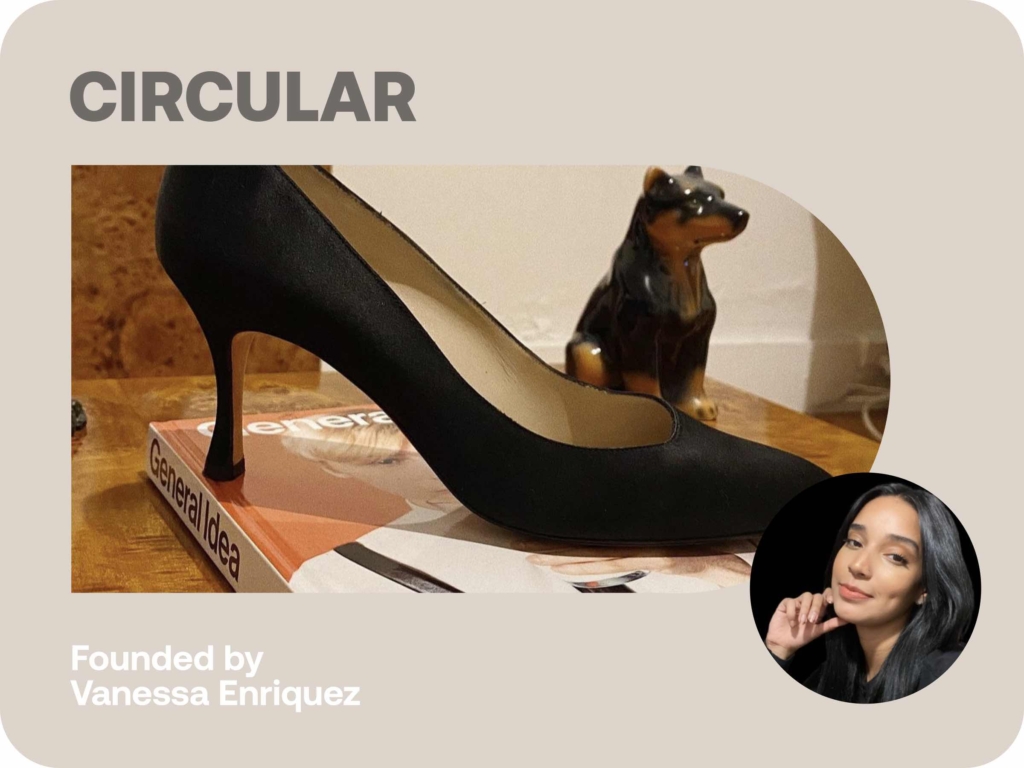 Website | Instagram | Facebook
Vanessa Enriquez started CIRCULAR, an online retailer of used designer vintage and secondhand footwear, after losing her job with a B2B wholesale retailer at the height of the pandemic. "I found myself with a lot of time on my hands, and I needed to keep busy and keep my skills sharp," says the New Yorker-by-way-of-Miami. "That's when I decided to mesh my love for shoes with my newfound sense of reducing consumption and excess."
Vanessa had inherited her mother's penchant for shoes and dabbled in footwear design. But she also viewed the fashion industry through a critical lens, thanks to Elizabeth L. Cline's The Conscious Closet: The Revolutionary Guide to Looking Good While Doing Good. The book dives into our tendency to buy cheaper, more disposable items (albeit, often out of necessity), rather than pricier, longer-lasting ones, and the resulting impact on people and the planet. "That's why it was important to me to keep CIRCULAR's prices fair and accessible," Vanessa says.
Vanessa self-funds CIRCULAR, carefully sourcing shoes that not only have extra mileage, but align with upcoming trends. For now, the business is a solo operation she balances with her current 9-to-5. It continues to grow organically with the help of joint pop-ups and giveaways that introduce CIRCULAR to fans of the vintage sellers Vanessa collaborates with, and vice-versa. 
Building an audience remains her biggest hurdle, but she tries to focus on creating an aesthetically pleasing experience with products she believes in rather than gaining IG likes or follows. A consistent product and brand voice, plus confidence, have helped most with growth. 
CIRCULAR's consignment program goes a step further in keeping items out of landfills by providing a platform for others to sell their used luxury footwear and sharing the profits with them. Sellers simply ship their shoes to CIRCULAR, which takes care of the rest. 
Besides giving old shoes a new life, Vanessa sanitizes and repairs them herself, and ships them in organic cotton shoe dust bags and biodegradable mailers. Her ultimate goal for CIRCULAR? "That it helps spread sustainability awareness in the chicest way possible," Vanessa says.