How to define invoice payment terms
9 minutes
In the world of business, timely payments aren't just a matter of convenience — they can also greatly impact your business. Most small business owners ensure on-time payments by setting clear payment terms on every invoice they send, whether they are delivered on paper or through an app like Invoice2go a Bill.com company.
Do your invoices include clear payment terms? Let's take a closer look at how you can set clear payment terms to streamline your invoicing process and get paid faster.
What are payment terms?
While automation can make it easier to invoice clients and receive on-time payments, there are many times when you'll be faced with late-paying customers and unpaid invoices. To get paid in a timely fashion, many small business owners include detailed payment terms on their invoices.
These terms generally feature such items as:
Payment due date
Accepted payment methods
Late fees or other penalties
Financial incentives for prompt or early payments
Any additional information relevant to your client or contract
In other words, your payment terms tell the customer three things: When to pay you, how to pay you, and what happens if they miss the deadline.
Do I need to use payment terms?
As a business owner, it's wise to include at least some basic invoice terms to protect your company's cash flow. Overdue invoices can create cash flow problems, which prevent you from having the funds to pay your bills, pay your employees, or invest in the future of your company.
Having an organized method for collecting and managing invoice payments can do more than just protect your cash flow. It can also help you predict your company's revenue. Communicating clear invoice payment terms to your clients can therefore be vital for financial forecasting and long-range planning.
Common invoice payment terms
What payment terms are right for your business? You might consider this list of the most common payment terms in use by small businesses today. These invoice payment terms can help you define the date that you expect payment and communicate your preferred payment method.
Cash account
This payment term denotes an invoice that can only be paid in cash. "Cash account" means that your clients can't use another payment method, such as credit, nor can your clients expect any credit to be issued.
Cash before shipment (CBS) or cash in advance (CIA)
Basically, these two payment terms allow you to ask for a down payment. Your customers must submit full payment prior to shipping their products or before performing a particular service.
Typically, CBS is used when referring to shipping physical goods, while CIA tends to be reserved for those who perform a particular service, such as web designers or graphic artists.
Cash next delivery (CND)
This method is used for recurring invoices. When your clients receive goods or services on a recurring basis, you can set payment terms such that the client must pay their invoice in full before you provide another delivery.
Cash on delivery (COD) or payable upon receipt
These two invoice payment terms are used when you want immediate payment. This also means that if your client is unable to render payment, you have the right to repossess the goods or the intellectual property that you've delivered.
Contra/contra payment
It's not uncommon for two companies to owe money to one another. When this happens, contra/contra payment terms allow the company that owes the larger sum to pay the difference between the two amounts owed in order to settle the debt.
End of month (EOM)
This invoicing term means that payment is due on the last day of the same month as the invoice date. So, for instance, if you receive an invoice dated March 21, your payment is due by March 31. This is simply another method for ensuring your clients submit prompt payment.
Net 30
The "net" system is one of the best invoice payment terms, simply because it's both clear and versatile. Net 30 means that  payment is due 30 days from the invoice date. For example, if you send an invoice dated January 3, your client should expect to submit payment no later than February 2.
Net 30 is just one example of how you can set a firm payment deadline based on your invoice date. You can create your own invoicing terms in any amount you want. Some common examples include:
Net 7 (due 7 days from invoice)
Net 10 (due 10 days from invoice)
Net 60 (due 60 days from invoice)
Net 90 (due 90 days from invoice)
However, be aware that not every client will immediately understand the "Net 30" designation, so you may also want to specify "days" on your invoice or simply spell out "due 30 days from receipt."
2/10 net 30
One of the easiest ways for small business owners to encourage customers to pay their bills on time is to offer financial incentives. You can offer early payment discounts to customers who pay their invoices before the due date. For example, you could offer a 2% discount to customers who render payment within 10 days of the invoice date.
Payable in advance (PIA)
This invoice term is not at all dissimilar from the cash before shipment (CBS) or cash in advance (CIA) payment terms we explained earlier, in that it allows you to accept down payments for products or services. The main difference is that this term is generally used when you'll be accepting partial payments. For example, you might ask your client to pay 25% of the invoice upfront and then pay the remainder upon receipt.
How to set payment terms with your clients
Setting clear invoice payment terms is good for your business, but how do you ensure that your customers respect your terms?
Surprisingly, communicating clear invoicing terms can improve your client relationships and ensure that you get paid on time. Here's how you can implement clear invoice terms.
1. Communicate before you invoice
Communication is key to every relationship, including the relationship between a small business owner and their clients. When setting up a new business contract, make sure to be open about your payment terms. The last thing you want is for your client to receive an invoice with a lot of terms they weren't expecting.
You should make sure your clients understand such details as:
Payment due dates
Your preferred method of payment
Late payment penalties
This is particularly important if you offer any of the immediate payment terms described above, such as cash on delivery (COD). Your clients will need to know in advance that payment is due immediately, ensuring a smooth transaction and a smooth relationship for the future.
Proper communication can keep both you and your client on the same page about the expectations you have for each other. It never hurts to overcommunicate. You might even show them a sample invoice so they know exactly what to expect when their bill comes due.
2. Clearly label your invoice date
Your entire invoice should be clear and easy to read, with details such as the invoice number, description of goods, the total invoice amount, and other relevant information.
But when it comes to receiving invoice payments, you'll want to ensure you clearly communicate your invoice date. Why? Because most payment terms use this date to establish the final payment date.
Make sure to double-check your invoices for accuracy before you send them out. To save time, you might rely on invoicing software to streamline these administrative processes, allowing your clients to send immediate payment upon receipt of the invoice.
3. Explain any early payment discounts
Get paid faster by offering your customers an early payment discount. For example, your invoice terms might include something like the 2/10 net 30. This means that if your client submits a payment within 10 days of the invoice date, they can receive a 2% discount on their final total.
These discounts for early payments guarantee that you'll have the working capital to sustain your business. Best of all, you'll build your customer relationships when you offer your clients a discount for making an early payment.
4. Set up recurring payments
Depending on your business, you might have customers who deal with you regularly. A recurring invoice is one in which the customer pays for your goods or services on a regular, scheduled basis.
With the right digital tools, you can set up recurring invoices so that your customer pays automatically, eliminating the worry of late payments, fees, or other snags that can jeopardize your cash flow.
5. Set up automatic reminders
You can avoid late payment by sending clients an automated reminder, prompting clients to make an immediate payment to stay in compliance with your invoice terms. Invoice2go allows you to do this easily. This feature pairs with our electronic payment options.
When your client can submit online payments quickly and easily, then you're more likely to receive payment on time.
6. Outline payment options
If you want your customers to pay on time, you can offer multiple payment options to fit their company's needs. This includes payment types such as:
Cash
Credit cards
Debit cards
Automated clearing house (ACH) deposits and bank transfers
You could also consider offering a line of credit. This is a business accounting strategy that allows your customers to pay their invoices over a longer period of time.
7. Send an interest invoice
What happens when the invoice deadline comes and goes and your customer hasn't submitted payment? If you charge fees for late payments, then these late fees basically become a way to charge interest on outstanding invoices. For example, if you assess a 10% fee for late payments, then your bill is essentially accruing interest.
You can remind late payers that they have an outstanding invoice by sending them an "interest invoice." This invoice should repeat the invoice terms from the original invoice, as well as the late fee that now applies to their account. Ideally, your client will rectify the situation immediately to keep their account in good standing.
8. Consider invoice factoring
When all else fails, some companies offer what's known as "invoice factoring." In this method, you'll basically sell your outstanding invoices to a third-party agency. This agency will typically pay you 80% to 90% of the value of these invoices. Then, they try to get the money from the late payers' outstanding invoices.
On the one hand, you'll receive less than the invoice was worth, but this method ensures that you collect at least some form of invoice payment — and something is certainly better than nothing. Plus, by getting the money as quickly as possible, you protect your company's cash flow and maintain working capital for the future.
How to get set payment terms using Invoice2go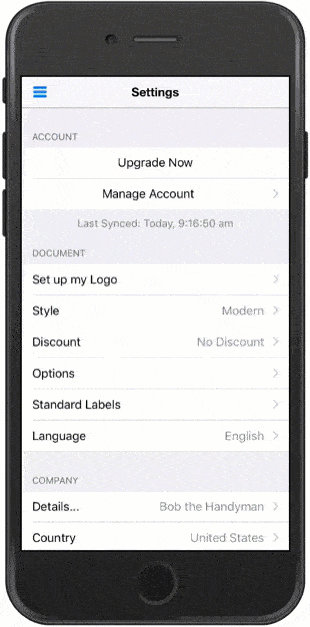 At Invoice2go, we're all about making it incredibly easy for your customers to pay you. That means eliminating any confusion up front to minimize the back and forth at the end of a project.
Using Invoice2go, you can select the number of days until your invoice is due, from "Same Day," to "7 Days," all the way to "365 Days." This will set your invoice due date.
If you want to provide more information about payment in the notes section, try using short, clear phrasing, such as "days to pay" instead of "net."
To set up payment terms with Invoice2go, simply complete the following steps:
Go to Settings and tap on Terms
Choose your ideal payment terms
From the Settings menu, click on Payment Options to control how your customers can pay you (i.e. by Debit and Credit Cards, PayPal, etc.)
When you create an invoice, the due date will reflect the payment terms you set.
Start today for free
Just think of how much money your business could save by relying on an electronic invoicing platform. At Invoice2go, we've helped countless small businesses owners to implement new solutions and streamline the way they do business. Sign up today, and you'll gain access to our free 30-day trial offer. You'll see how easy it is to generate customized invoices, and start getting paid on time.