4 profound things I learned by interviewing 100 female entrepreneurs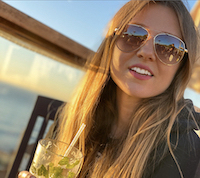 Wow. Just wow. A year ago, we launched an initiative that sparked an entire movement for us at Invoice2go. 

We wanted to throw ourselves into supporting women entrepreneurs. 
Why?
When our CEO, Mark Lenhard, came onboard, our senior leadership team conducted customer surveys to get to know our subscribers. 
As a software company that exists to help small businesses thrive, we serve hundreds of thousands of customers worldwide. We wanted to understand these customers better. 
What we learned that month was a bit shocking, however.

Only 17% of our subscribers were women. 
Seventeen. Percent. 
Ouch.
In 2020, women — specifically black or African-American women — were the fastest-growing demographic of small business owners in the American market. 
And the majority of women weren't relating to our brand. They didn't see themselves as our customers.
We knew we could do better. 
As a woman and former freelancer myself, this was an exciting moment. It presented us with an opportunity to create positive change — both for us and the women we could help thrive as entrepreneurs. 
So we decided to create that positive change. 
In mid-August 2020, we launched a new podcast, The Female Founders Network, on Apple and Spotify. We also set up an accompanying Instagram Feed and Facebook Group to help lift women's voices on multiple platforms.

We set out with the goal of interviewing 100 relatable women business owners, industry experts, and leaders. We wanted to listen to their stories and share their best advice. 
We wanted to give the world more access to relatable, strong, and persistent women and shed some light on their individual experiences. 
We had never produced a podcast as a company – and we had only scratched the surface of community building. 
Our brand had very little reach with customer segments outside the construction industry at the time. 
We knew we wanted it, but we were so far from becoming a champion of women as a brand. 
All of our previous marketing campaigns featured images of male plumbers and electricians with overalls and tools . . . 
. . . We went for it anyway. 
The Female Founders Network Podcast premiered on August 17, 2020. 
I decided to interview the guests myself and recruited a buddy to help build season one. Sylvie (Hall) Wilson, my co-host, was an agency owner from the United Kingdom who ended up providing a key (and sometimes hilarious) "across the pond" perspective.
We set out to share the stories of 100 women. 
Each episode contains a new interviewee with a new life experience and perspective.

The last episodes will air almost exactly one year after they started. And this podcast has been one of the most profound work experiences of my life. 
With each subsequent interview for the podcast, I found myself laughing, crying, and connecting with women in a way I hadn't experienced before. 
In case you want to laugh, cry, scream and giggle too… here is what I learned. Links to referenced episodes in the article. 

Happy listening, everyone!
Lesson #1: Women hold incredible wells of resilience within their souls
Have you ever spoken to someone who turned utter and complete devastation or heartbreak into a thriving business or organization?

Now that I've spoken to 100 female founders, I have… time and time again. 
While women are societally known to be more empathetic and emotional than men, biologically speaking, not much is often mentioned about what we do with that emotion — especially when our entire worlds come crashing down through a catastrophic event. 
While society may still see strong emotion as unprofessional, women sure have a way of using it to drive success. 

As a mother, the most deeply moving story I heard was from Joke LePoole, founder of The Max Foundation.
After tragically losing her newborn son to infant mortality, she used her grief as the driver to dive headfirst into preventing child and infant mortality around the globe. Today Joke's foundation improves the lives of over 1 million mothers and children every year. 
From a "hell yeah" perspective, I will never forget Charlotte's Book founder Robin Shobin.
After busting her bum to make it on Wall Street, Robin started one of the first "over 35" beauty blogs and became an expert on all things "mature" beauty, eventually repping all the industry's biggest brands before influencer marketing was even "a thing." 
And in the midst of ALL of that… her husband of many years fell in love with a 19-year-old. But did she let heartbreak break her down? No. She poured all that emotion into fueling the launch of her latest business, Halo Sport. Halo is now sold across the US and expanding abroad. 
When the COVID pandemic hit, women all over the world reached a new level of resourcefulness.

When international travel halted, the enterprising mother and two-sisters team and owners of the ethical-wage Baby Elephant Boutique Hotel, Carmel, Innez, and Ilana Tulloch, created a travel voucher and gifting system that allowed them to keep staff members employed. 
Stories of turning challenging situations into a reason to help others or push further existed in so many of the conversations I had with these women. They cropped up in so many forms. 
Independent psychotherapist Diann Wingart turned a traumatic childhood into a lifelong mission to help women with ADHD. Expert nonprofit consultant Hawwa Muhammad and educational consultant Dori Cook turned the public tragedies that befell George Floyd and so many other Black Americans in 2020 into a reason to start and continue important, honest conversations that could lead to meaningful change. Tech founder Lexi Lewtan turned her struggle with severe anxiety into the catalyst for launching Centered to help others cope where she could not.  
Sometimes the ones pushed down the hardest are the same ones that get back up the strongest. The women I spoke to on TFFN were proving it every day. 
"A woman is like a tea bag; you never know how strong it is until it's in hot water." - Eleanor Roosevelt
Lesson #2: Companies lose incredibly talented women to entrepreneurship by failing to provide flexible hours and treating them unequally
I often get gasps when I say this, but when I was a young professional in 2011, I had to take on a freelance night job in order to make the money I needed to pay daycare... so that I could work my day job. 
As a single mother of two at the time, I made "too much" to qualify for free daycare but far too little to actually afford it. If I hadn't been determined enough (aka, foolhardy and hellbent) on advancing my career, I likely would've given up altogether.
What I didn't realize at the time was, this was not an uncommon story. 
When mothers are not given flexible working hours or options, companies lose out on a LOT of incredible talent. I mean, a LOT. 
Even in instances where women outearn their partners, women still perform more domestic duties than their male counterparts. In addition to actually gestating and birthing children (which, believe me, is not for the feeble), mothers are most often responsible for staying home with sick kids, ensuring family members are taken care of, and carrying out household duties.

And that is why old-school companies that aren't willing to bend to accommodate these other responsibilities often lose them. 

Take media exec Kristi Andrus, one impressive woman with a plethora of experience. Kristi spent years running a billion-dollar account for HBO, launching everything from The Sopranos to Game of Thrones.
After having three children in three years, the demands of work made it apparent that she needed to choose between her high-profile job or her kids… and guess who won? Kristi is now a self-employed consultant. Losses like this leave massive talent gaps to fill for employers. 
While a lack of flexibility often leaves women with no choice but to go out on their own, challenging work dynamics like unequal pay or inequitable criticism often leave women wanting to work for themselves instead of others.

Activist Leah Morris launched Mavens, a digital publication championing women in media, after discovering that she was being paid unequally to her male peers. Public relations consultant Andrea Holland left the agency world to become an independent consultant at the height of her career, after failing to achieve her promotion to VP multiple times despite her exceptional contributions.

Leadership coach Terry McDougall observed so many roadblocks as a female leader in the financial industry that she eventually quit and formed an entire consultancy around helping other high-achieving women combat the perception gaps and reputational challenges she once faced.
Jelix fund founder Andrea Gardiner spent just enough time on the male-dominated stock exchange floor in London to realize that she would rather be her own boss as well.
If there was one thing made apparent by the end of our first season, women would increasingly rather work for themselves than deal with situations that don't serve them. Whether it was inflexible hours, pay gaps, or leadership challenges — the companies that failed to give women a fair shake were ultimately the ones that lost them to self-employment. 
"The question isn't who is going to let me; it's who is going to stop me?" - Ayn Rand
Lesson 3: Female entrepreneurs are incredibly observant and strategic 
Scientifically speaking, the same biology which allows women to bring life into the world often also blesses us with an insane amount of empathy for other human beings. Our roles as collaborative caregivers and child-bearers in primitive, tribal societies generally allow us to feel and understand others' emotions on a heightened level compared to our male counterparts. 
However, this skill isn't only helpful in raising babies. It's beneficial for understanding customer behavior, reading the cultural cues and zeitgeists needed to impactfully bring services and products to market, and make stealthy business moves all around. 
After speaking with 100 female guests, the advantage of a nurturing approach and empathetic viewpoint in business strategy and entrepreneurship is clear. By understanding human behavior on an emotional level, many women can quickly identify gaps in the market and launch products and services that solve them.
Founder Sophia Yen noticed how many young women struggle to get the birth control they need due to societal shame, cultural issues, or simply a lack of access. She founded her birth control subscription service, Pandia Health, to ensure all women have more control of their sexual and reproductive health.
Brook Sheehan noticed two trends — how hard it can be to bake or cook for your family when one or two of the ingredients you need are missing or out of stock and how much food waste happens every day. Brook launched Cup O Sugar to give neighbors a space to ask each other when they need an ingredient to complete a recipe or offer small food staples to others.
After backpacking in Africa, Annabelle Chauncey was moved by the eagerness of Ugandan children to learn and hope for their communities to rise. She founded the School of Life Foundation to provide quality education, vocational training, employment, and healthcare solutions to Ugandan children and families.

Finally, Clair Summers went all-in on her business after a near-death experience. She believes in her Glass Jar creations that she moved to the US, went to countless tradeshows across the country, and poured her life's savings into her first product once presented with the opportunity to feature it on Oprah's Favorite things.
After talking to these women, I'm amazed and inspired by their insight, strategic thinking, not to mention determination to go all-in for what they feel passionate about. 
"I did not have the most experience in the industry or the most money, but I cared the most." -Sara Blakely, Founder of Spanx
Lesson 4: Women will keep going long after everyone else has given up 
Several studies now show that women may actually be the more persevering gender. Women are often highly skilled at pacing themselves and recalibrating their goals and expectations to keep moving. As I spoke to these 100 women entrepreneurs, I can't count the number of times I was inspired by how persistent, dedicated, and resilient they were.

… And if any outdated myths about women's fragility remain, the stories of these women will smash them.

I got to speak with Aimee Kandrac, who is an unbelievably steadfast and dedicated woman who founded WhatFriendsDo. Despite it being one of the most challenging times of her life, she stayed motivated and kept pushing forward – enabling her to land an incredible $500k in venture capital.
Beauty business, Tycoon Tonya Fairley, floored me by how she's always expanding and improving. She ditched the corporate world in pursuit of her dream of becoming a hairstylist. Guess where it leads her? To the founding of 4 six-figure hair and beauty businesses. And she's still working tirelessly.
MaryEllen Reider describes her business, Yarlap, as a 'six-year overnight success.' She and her father fought the uphill battle of marketing a women's sexual health product in a patriarchal world – and although it took them years, they finally found success.
Raising a child is hard enough. Can you imagine adding in the additional challenges of growing a business at the same time? Ruth Rau did it all with Mouse Loves Pig – a collection of eco-friendly toys that inspire imaginative play and bring eco-consciousness to children in a fun way.


And finally, Stacey Fisher and Lorraine Cherry-Nguyen from Minnow children's shoes. These two women put in their resignations at high-profile corporate jobs and worked relentlessly to found their business.
"You will be defined not just by what you achieve, but by how you survive."―Sheryl Sandberg

I feel like I've collected enough inspiration for a lifetime, but know this is also only the beginning for us.

Here's to continuing to uplift women leaders and entrepreneurs! I can't wait for what the next year will bring. If you're not yet a member of our community, check us out. It's going to be a fun ride!