5 small businesses to celebrate this Disability Pride Month and year-round
Note: Members of the disability community are increasingly embracing identity-first language instead of person-first language (e.g, "autistic" versus "a person with autism'), understanding disability as integral to identity, as the Center for American Progress points out. Some still prefer person-first language, though. The introduction of this post uses both interchangeably, while each small business profile uses the language preferred by the entrepreneur. 
July is well underway, which means so is Disability Pride Month! Disability Pride Month commemorates the July 26, 1990 signing of the Americans with Disabilities Act (ADA), which prohibits the discrimination of people with disabilities in schools, workplaces, and other spheres of public life. The ADA also requires public spaces to build accommodations, such as curb ramps and Braille signs, to make them more accessible to disabled people.
Despite this victory – thanks to disability rights activists' tireless efforts – true equity for disabled people has yet to be realized. The pandemic, for instance, has disproportionately impacted what the CDC estimates to amount to 1 in 4 adults in the US who live with a disability. 
Steeper barriers to adequate healthcare heighten the risk of poor COVID outcomes in people with disabilities. Many also work in industries that were hard-hit during the pandemic, as the New York Times reported. Occupying other marginalized identities (as a queer and/or BIPOC disabled person, for example) can widen these disparities, which have taken on even greater resonance now that COVID may leave millions of Americans disabled. 
That said, Disability Pride Month is a moment to not only acknowledge the challenges the disability community faces, but also to celebrate its ingenuity and resilience. The approximately 700,000 disabled people who are self-employed, per the 2019 American Community Survey, are a testament to both. Not unlike how the shift to remote work opened up employment opportunities for disabled people (although many companies have required a return to the office), entrepreneurship has empowered many to build careers that fit their needs. 
Working a 9-to-5 office job isn't always feasible for people with disabilities. Business ownership opens doors to profiting from their passions in ways that work for them. Here's how 5 entrepreneurs with disabilities built ventures that allowed them to thrive.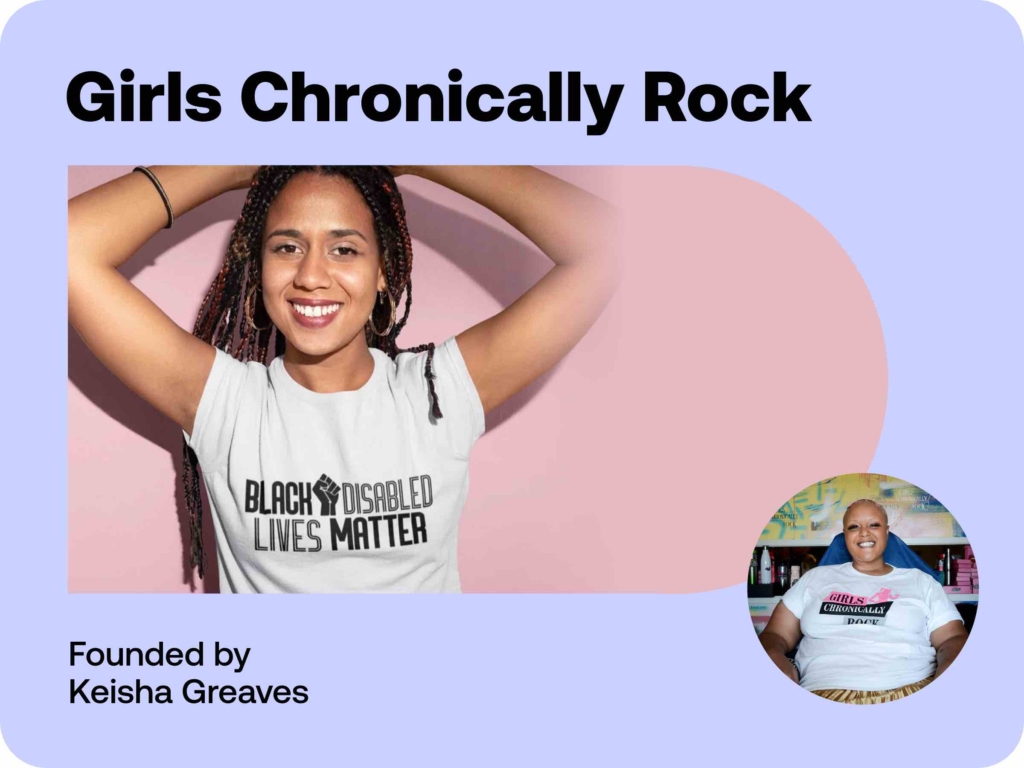 Keisha Greaves - Girls Chronically Rock 
Website | Instagram | Facebook 
Keisha Greaves made up her mind about becoming a fashion designer as early as middle school, looking up to icons like Kimora Lee Simmons, Betsey Johnson, and Tommy Hilfiger. She took the steps needed to reach her goal, earning a bachelor's in fashion design and merchandising, followed by an MBA – but then something strange started to happen in grad school. 
Every now and then, Keisha's leg would suddenly give out, leaving her unable to pick herself back up. A neurologist diagnosed her with limb-girdle muscular dystrophy, a group of genetic disorders that leads to wasting and weakening of the arm and leg muscles, when she was 24. Initially, she struggled to overcome her denial and share her diagnosis with others. 
Keisha's disability also highlighted the lack of accessibility in the industry she loved – but that only strengthened her resolve to pursue a fashion design career. While some labels, like Tommy Hilfiger and Target, have forayed into adaptive fashion, "fashion is not all inclusive," she says. 
To raise awareness about chronic disabilities, Keisha founded Girls Chronically Rock in 2017.   The fashion brand creates splashy tees with empowering messages like "Trust Your Abilities" and "Chronically Dope." It also partners with Framingham State University, Keisha's alma mater, to teach fashion design students about adaptive wear. Girls Chronically Rock already carries one student's swimsuit design, whose shoulder snaps make it easy to take on and off. 
Keisha supports her business through a combination of grants and her own funds. She's landed customers by posting videos on Instagram, as well as advertising and joining relevant groups on Facebook, like Boston Business Women. Her numerous podcast appearances have helped engage new customers, too.  
As an entrepreneur with a disability, she faces obstacles often: "Each day I wake up, I don't know what my body is going to feel like," says Keisha, who lives in Cambridge, Massachusetts. But Girls Chronically Rock also keeps her motivated. One day, she wants to see it in retail chains, such as Target and Macy's, as well as high-profile shows like New York Fashion Week.
"We all deal with things differently on our own time," Keisha reassures entrepreneurs with early-stage muscular dystrophy.  "My recommendation would be for patients to reach out to others who may be dealing with the same thing…. Everything will be ok."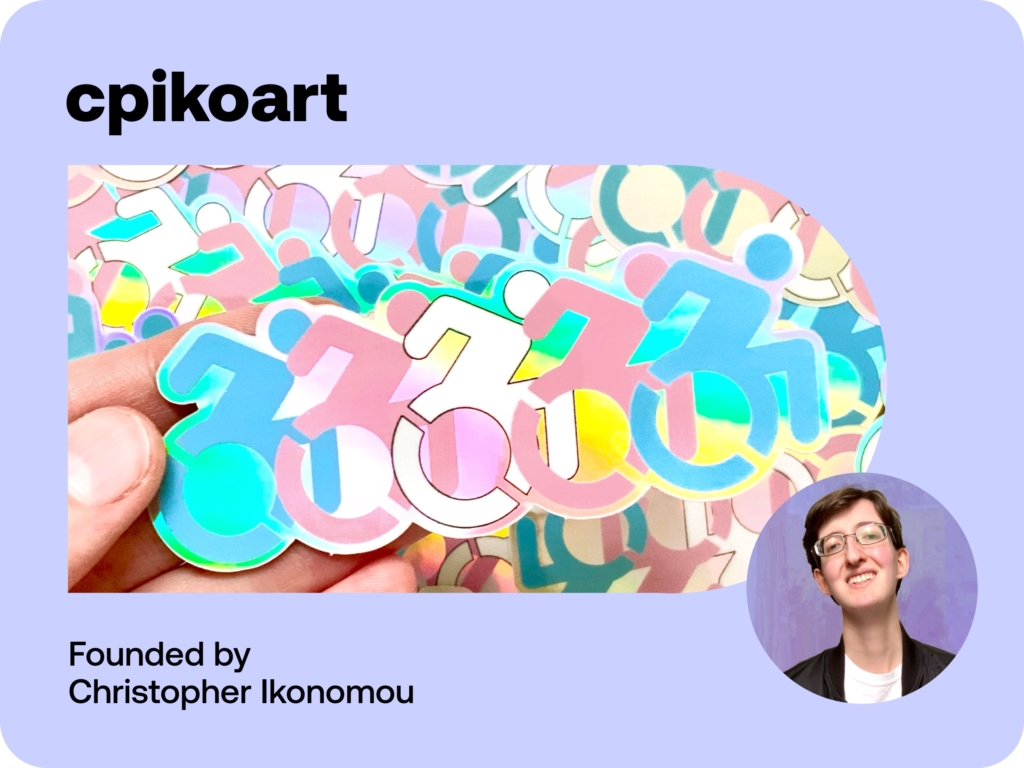 Christopher Ikonomou - cpikoart
Etsy | Instagram | Facebook | TikTok
Although Christopher Ikonomou of Los Angeles has been visibly chronically ill xyr whole life – diagnosed with Marfan syndrome, a genetic disorder that affects connective tissue, at 18 months – xe didn't start identifying as disabled until xey encountered blatant inaccessibility and ableism as a college freshman. Xe recalls residents in xyr dorm mocking those, like xemself, who needed to use the elevator to reach the 2nd or 3rd floor. One student even deemed them "a burden." 
Meanwhile, Christopher's artist friends created work expressing pride in their identities, which inspired xem to do the same. Xyr first design, titled "Take Me Home" – a UFO sticker featuring different LGBTQ+ Pride flag variants – explored xyr feelings of alienation from society as a transgender and disabled person, and xyr decision to accept xemself regardless. 
"That radical self-acceptance and queer and disabled joy has been a common thread throughout all my work since starting my shop and focusing on my artwork," xey say. Xyr Etsy shop, cpikoart, sells a kaleidoscopic array of pieces – from prints to pins and other wearable art – that aim to uplift LGBTQ+, disabled, and other marginalized people. Their vibrant, inclusive designs have attracted notice from CASTEiFY, which featured Christopher's phone case designs in its Pride Month collection, with plans to drop xyr personal collection in a few months.
Christopher credits cpikoart's success to the community xey've built over the years. Xey relied solely on organic social media engagement to attract customers and connected with xyr audience through art about xyr personal journey and posts that represented as many identities as possible. 
Cultivating xyr social media following (around 20,000 on IG) also feeds xyr business's growth, since it remains xyr primary form of advertising. Xey make sure to communicate with them about xyr needs, like now, while xey've been recovering from open heart surgery. "People know I am disabled and need rest, and I try my best to grant myself that rest when I need it," xey say. 
It helps that cpikoart allows Christopher, a full-time student, the freedom to work when xey have the time, energy, and creative bandwidth. Beyond mandating set hours and workplace attendance, typical 9-to-5s can discriminate against disabled people in other ways. Xe notes it's still legal to pay them below a minimum wage, and employers often deny them accommodations.
Christopher's ultimate goal for cpikoart is to make disabled and queer people feel seen, especially after experiencing the isolation of being the only disabled kid for much of xyr life. "Disabled people deserve so much more than we are granted by this ableist society, and I want my work to offer a glimmer of the pride they want so desperately to take from us," xey say. 
Xey advise disabled entrepreneurs to build community with other disabled folks – and crucially, to insist on joy. "You bring such a unique perspective and experience to the world, and if you want to express it, you have every right to," xey say. "Many nondisabled people think disability is a death sentence; disabled joy and success spits that sentiment right back in their faces."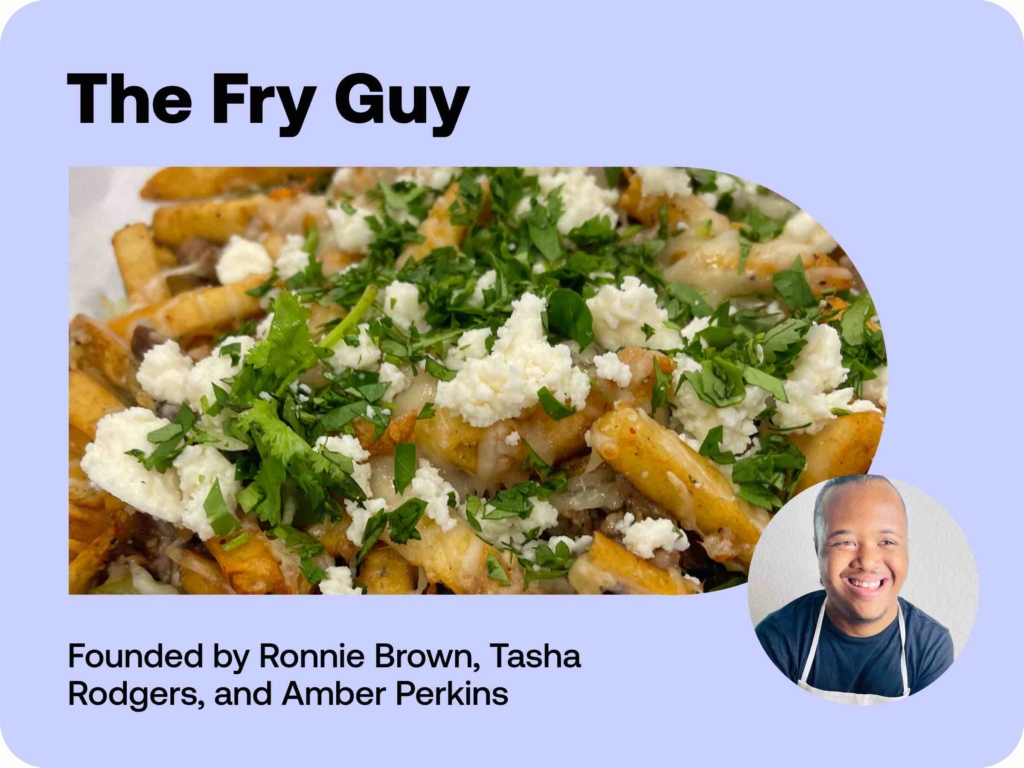 Ronnie Brown, Tasha Rodgers, and Amber Perkins - The Fry Guy
Website | Instagram | Facebook
Ronnie Brown's penchant for fries began when his aunt snuck them into the feeding tube he relied on early in life. It wasn't until a doctor noticed potato chunks in it that she confessed – but the incident showed that Ronnie, who has Down syndrome, was ready to get off the feeding tube and eat solid food. "After that, french fries were his thing," recalls his sister, Tasha Rodgers. His palate refined even back then, he'd leave those that fell short of his standards uneaten. 
When their mother died in 2016, Tasha wondered what to do with Ronnie – his magnetic personality needed an outlet. She realized the answer was in front of them all along: french fries.
On weekends when she wasn't teaching, she drove Uber with Ronnie in tow. Once the siblings – who live outside Austin, Texas – saved up enough money, they teamed up with a friend, Amber Perkins, to hold The Fry Guy's first event at a local elementary school in November 2019.  
"We bombed it," Tasha says. 
They sold only 12 batches, not because of a lack of demand, but because their tiny countertop fryer couldn't keep up. "What was remarkable about that bombed event was that people waited," Tasha says. "They waited for [Ronnie] in line." Now that they'd confirmed they had a market, the trio planned to host more events in the spring – until COVID hit in March 2020. 
But that didn't deter them. They designed and sold Down syndrome awareness tees to stay visible. That fall, Ronnie won a $25,000 grant from the National Down Syndrome Society and Voya Cares, which went toward a tent, fryers, and other supplies, and circulated his name. The Fry Guy participated in more festivals and has pretty much taken off ever since. 
This year's Eeyore's Birthday Party, an annual Austin festival that normally takes place in April, ranks among their most successful events. Customers stood in line by the hundreds – and stayed upbeat even when it came time for them to order from Ronnie. "People want to know about people who have disabilities," Tasha says, "and I think Ronnie likes telling people who he is." 
Instead of forcing Ronnie to conform to a traditional job with rigid hours, entrepreneurship allows him to build a job around his needs. While he's the life of the party at a two-hour catering  gig, for example, an 11-hour gig would wipe him out, Tasha says. 
Ronnie's goals include learning to make a chili fry dish called The Texas Guy, as well as The Fry Guy's BBQ sauce. Meanwhile, Tasha wants to figure out how to integrate Ronnie's modeling (he's walked in New York Fashion Week), acting, and social media presence into The Fry Guy. 
Ronnie's advice to other entrepreneurs with disabilities? "I say yes," he says, a catchphrase he learned from his mother, which his school's Special Olympics program has since adopted. Tasha agrees. "Say yes to your idea, and just take the first step," she says.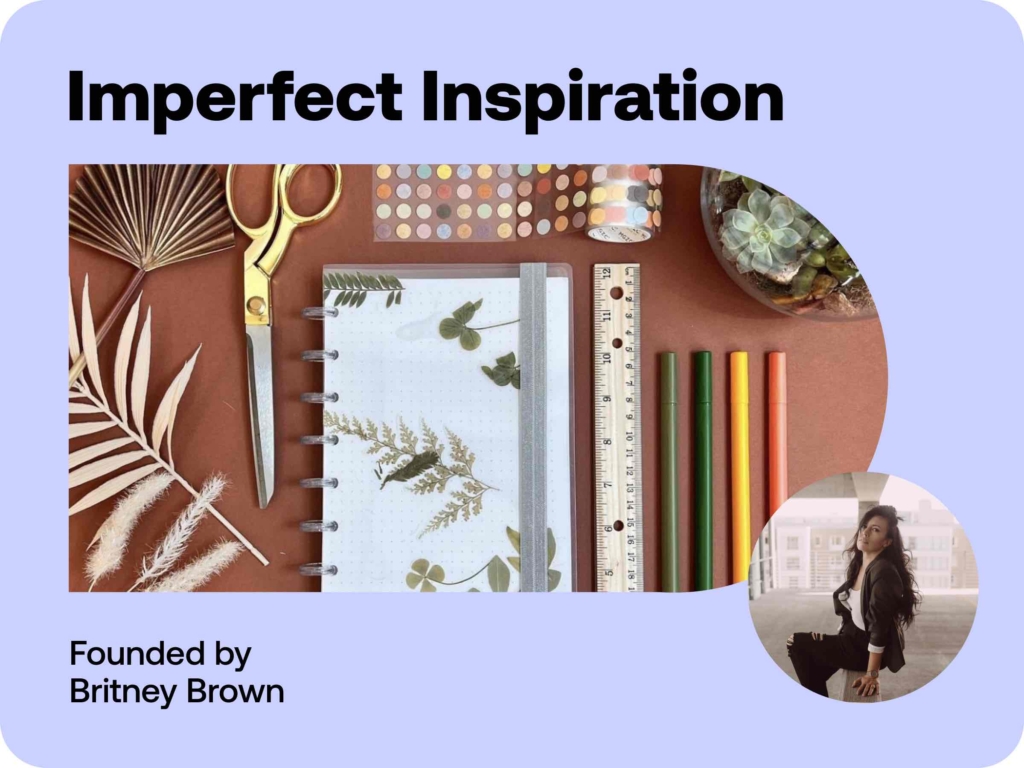 Britney Brown - Imperfect Inspiration
Website | Instagram | Facebook | YouTube | TikTok
Britney Brown of Des Moines, Iowa received her ADHD diagnosis in the summer of 2020, a few months into the pandemic. Around the same time, she began looking for a planner to schedule her time at home after years of running a bustling photography business. But she came up empty. 
All the planners she encountered were geared toward planning weeks and months in advance – something that seemed impossible in the depths of lockdown limbo. So Britney designed her own daily planner and posted a video about it on TikTok, where she'd begun creating content during the pandemic to connect with others. She told anyone who wanted it to let her know.  
Within three days, she had hundreds of digital orders, a printer, pre-orders for the notepad planner version, and a friend who offered to help with shipping. Funded by digital file sales and pre-orders, she figured out how to grow her business, Imperfect Inspiration, as she went. 
Neurotypical folks might find the open-endedness of most planners freeing – but "when neurodivergent people see that blank space, they freeze," Britney explains. "It's not guided enough." The ensuing guilt over wasting pages can cause other problems depending on the person and their triggers – in her case, negative self-talk, frustration, and anxiety, to name a few. 
Britney designs her planners – from font to line weight and everything in between – with neurodivergent people like herself in mind. "Every piece of it is thought out in a way that helps our brain sort information organically so there's a flow and a rhythm to how we process information on a page," she says. 
Her daily planner, for example, designates specific spaces for energy level; failure triggers; high-, mid-, and low-priority items; time blocking; a brain dump; and more. A message at the bottom of the page gently reminds people that "there is no wrong way to use this planner." 
Since the TikTok that started it all, Imperfect Inspiration has grown to 10 employees and sells not only planners for everything from chores to self-care, but also a plethora of other lifestyle products, such as stickers, greeting cards, and a subscription box. The diverse yet cohesive array speaks to Britney's abundant creativity, which she credits to her neurodivergence. "I've always been very good at seeing paths others don't see – creatively and in business," she says. 
Entrepreneurship has also freed Britney to work her way. While she used to get down on herself about doing her best work from 8:00 p.m. to midnight, now she just accepts that she operates on a different timeline from the norm. She encourages other neurodivergent entrepreneurs to "hire people who are good at the things you're not ASAP…. Ultimately the roadblocks you encounter will only compound if you're continually spinning your wheels in the areas you struggle." 
Britney hopes Imperfect Inspiration continues to increase visibility, resources, and humor around mental health, neurodivergence, and everyday adulting. "We love that we get to inspire people with our bedlam, and ultimately, whatever comes from that is enough for me!" she says.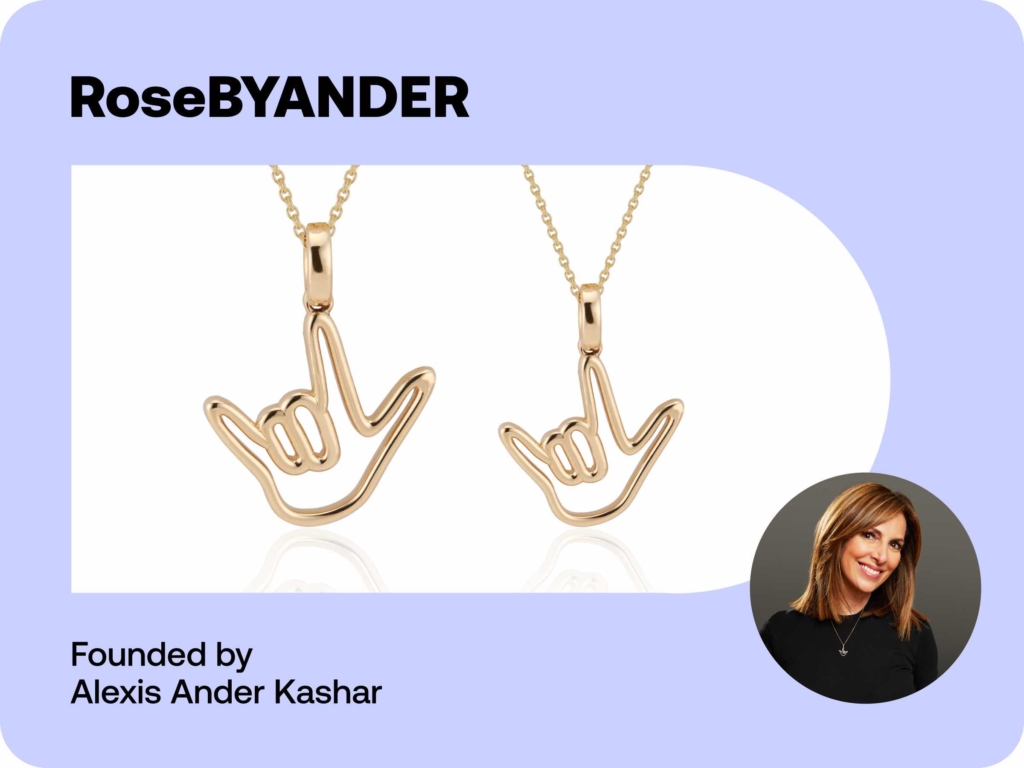 Alexis Ander Kashar - RoseBYANDER
Website | Instagram | Facebook | Twitter | Pinterest 
RoseBYANDER began with a family heirloom pendant created for Alexis Ander Kashar, her sister, and her mother. Inspired by the American Sign Language symbol for "I love you,"  it signified their pride as Deaf community members. People often approached Alexis about it, asking questions and even opening up about their own experiences. 
Struck by the deep connections a simple pendant fostered, Alexis shifted gears. She'd begun her career as a civil rights lawyer, often developing tech to create more permanent access solutions for her cases. After taking time off to raise her kids, though, she channeled her commitment to accessibility into jewelry design. 
"Seeing how design could have a much larger impact than litigation in helping to create a more accessible society, it was a natural progression for me," she says. In 2019, she launched RoseBYANDER, a jewelry brand whose delicate statement pieces bear the ASL sign for "I love you." The brand is currently partnering with QVC on both their TV and e-commerce platforms, and there are plans to announce a new collaboration by the end of this summer, Alexis says. 
RoseBYANDER was, and still is, entirely self-funded. The New York-based entrepreneur and her small team grew their community organically, mostly through their social network and word-of- mouth, including from celebrities like Marlee Matlin, who stars in Apple TV+'s Oscar Best Picture-winning film CODA (which stands for "child of deaf adults"). Dr. Jill Biden and Kelly Clarkson have also been spotted wearing RoseBYANDER's pendants – gifts from Marlee. 
RoseBYANDER's success has also depended on the extra steps Alexis needs to take as a Deaf entrepreneur. "One of the most difficult things for me as a Deaf person is that I must create access for myself first before I can conduct business," she says, such as hiring sign language interpreters for meetings, which she needs to budget for before any other business expenses. "This is not intended to be discouraging, but it is something that every entrepreneur who requires accommodations must think about as they start a business."
The stories customers share about their RoseBYANDER pendants keep Alexis moving forward amid these and other challenges. "We are often told that customers never take their pendant off once they receive theirs and how it opens up their world by creating dialogues they never thought they would have," she says. "This is the mission of RoseBYANDER, and we hope to create a world filled with love where people understand one another even more."