6 stories of LGBTQ+ entrepreneurs to inspire and motivate you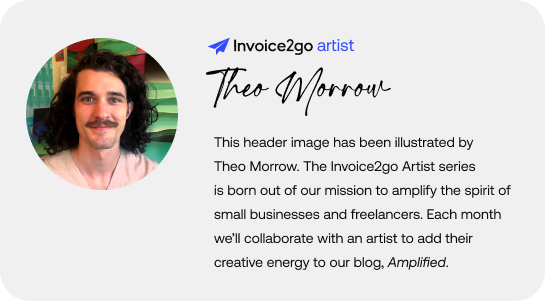 It's been a hard year for the LGBTQ+ community. Lawmakers have proposed over 300 anti-LGBTQ+ bills in 2022 so far, per the HRC. The Supreme Court's reversal of Roe v. Wade will disproportionately harm queer and trans people and raises questions about the future of same-sex marriage, gender-affirming care, and other LGBTQ+ rights. These attacks have occurred during a pandemic that's worsened inequities LGBTQ+ folks have long grappled with, such as employment and housing discrimination, NBC News pointed out. 
LGBTQ+ entrepreneurs face their own set of challenges. For one thing, they don't have as many visible role models as their straight, cis counterparts, a StartOut report found. Navigating homophobia and transphobia can complicate an already difficult journey to building their businesses. Thirty-seven percent of those StartOut surveyed decided against coming out to investors, with some worried it would hurt their funding chances. LGBTQ+ entrepreneurs with other marginalized identities need to overcome greater barriers still. 
But Pride Month is also an opportunity to celebrate LGBTQ+ people, including entrepreneurs, as well as their resilience. The National Gay & Lesbian Chamber of Commerce estimates that 1.4 million LGBTQ+ business owners contribute $1.7 trillion to the national economy. And there are a number of resources where LGBTQ+ entrepreneurs can find support. The NGLCC, for example, offers LGBT Business Enterprise certification, which grants LGBTQ+ business owners exclusive access to hundreds of government and corporate partners, among other benefits.  
At Invoice2go, a Bill.com company, we believe in the power of spotlighting LGBTQ+ entrepreneurs successfully running and growing their businesses. This month and year-round, we hope their stories inspire you as much as they do us.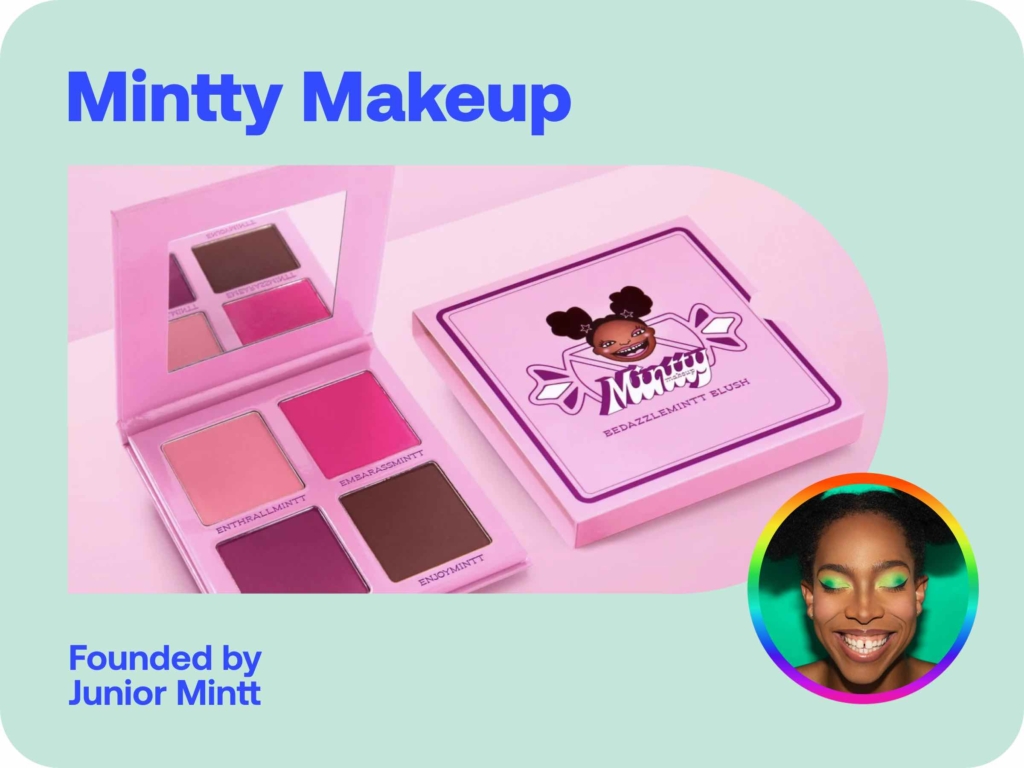 Junior Mintt, Mintty Makeup 
For Brooklyn-based drag performer Junior Mintt, makeup is more than decorative – it's transformative.  "Makeup was how I discovered my transness," she says, recalling her sadness over wiping off her makeup at the end of her shows. "I would be getting so emotional because with the makeup, it was the only time I allowed myself to see myself as a woman." 
When a friend asked mid-pandemic what she'd do once her body no longer let her perform, she knew immediately: makeup. Junior founded Mintty Makeup to not only share makeup's power as a portal to self-discovery, but also to find financial stability as a Black Trans woman.  
Mintty Makeup features highly pigmented, easy-to-layer shades catered to melanated skin. The exuberant branding – from the bright packaging to the punny product names (see: EmpowerMintt Prideshadow) – is intentional. Junior wants her products to invite rather than intimidate customers and remind them that the self-exploration they're engaging in is beautiful and positive. 
Building her cosmetics business involved contacting manufacturers, testing their products, assessing whether they could meet her standards for packaging and quality, calculating costs, and much more. That attention to detail was crucial to ensuring she created the product she wanted and worked with the people she liked. "If your relationship to your manufacturers isn't of quality, nine times out of ten, the product won't be of quality," she says. 
But the community Junior had cultivated over the years made the bumpy ride a little smoother. "While the price of graphic and web design and marketing can go through the roof, I had amazing friends that I made through my drag career that were jumping at the opportunity to support me without pay, just off of believing in me and my idea," she says. 
Junior infuses drag throughout Mintty Makeup. Drawing from her own experiences performing in makeup for hours on end, she's created products that last all day long. Meanwhile, the playful messaging encourages the drag ethos of artistry and self-expression. Painting her face based on how she felt helped Junior understand herself outside of drag. "That's what I hope for everyone, to use the time that you spend with yourself, building and understanding yourself," she says. 
To ensure she uplifts her community without exploiting it, she also uses her brand to put money back into the pockets of Black Trans people. She books them as models, salespeople, and makeup artists, and centers them in every product. 
Her advice for LGBTQ+ entrepreneurs? "[Don't] give up a piece of yourself for the success that you want to achieve," she says. Instead of appeasing the masses who don't share your worldview, seek people who do. "There will be roadblocks and challenges, but all of those challenges pale in comparison to the challenge of deciding which part of yourself to leave out."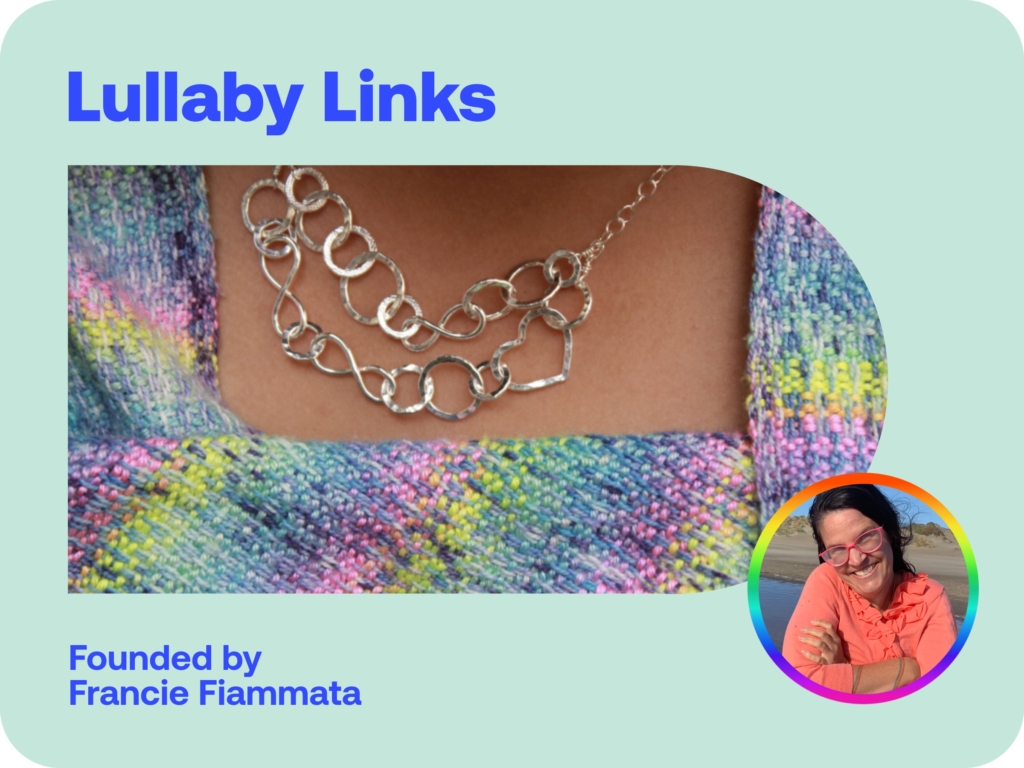 Francie Fiammata, Lullaby Links 
Website | Instagram | Facebook
Francie Fiammata describes themself as "a sensory seeker and collector." As a kid, they'd bend copper wire stripped from telephone cords, and collect stones of all sizes, textures, and colors. Their tactile nature found an outlet in jewelry making. Shortly after the birth of their first child in 2010, they started wearing prototypes of their jewelry and gifting them. 
But they never sold them – until they posted photos of their child playing with the jewelry dangling from their neck on a babywearing group on social media. The orders began pouring in. 
Francie bought supplies, landed on the name Lullaby Links, and incorporated their business. "Everything sprung off from there," they say. As its name suggests, Lullaby Links sells linked pieces, perfect for tiny hands to grasp. The business continues to grow through word of mouth. 
The Napa Valley-based entrepreneur launched Fancy Fidget as an offshoot of Lullaby Links for people who wanted to fidget with their own jewelry, a form of "stimming," or self-stimulating behavior. While most people engage in these often repetitive sounds or movements, they might be more pronounced in autistic people. They can involve seeking a sensation to dampen a bothersome one, to self-soothe, or to express happiness, explains Francie, who's queer and autistic. At the moment, though, they plan to close Fancy Fidget to find a new way to rebrand it. 
Francie's autistic identity strongly shapes their design process. "I will see the way objects are broken down into smaller shapes within shapes and how texture comes into play with them, and then I will transform those objects into link shapes with textures on them in my mind," they say. They also consider the movement and feeling of a design as important as its aesthetic. 
"It feels amazing to me that there are tens of thousands, maybe close to a hundred thousand, of my pieces out there soothing people in hands or tucked away to pass on to future generations," Francie says. Movable jewelry that helps relieve tension seems like a step toward a larger goal for their work: normalizing conversations about neurodiversity and mental health.  
"Queer your workspace, work circles, and processes," Francie advises other LGBTQ+ entrepreneurs. "Don't try to make yourself fit into anyone else's metrics, but find your own metrics that work for you."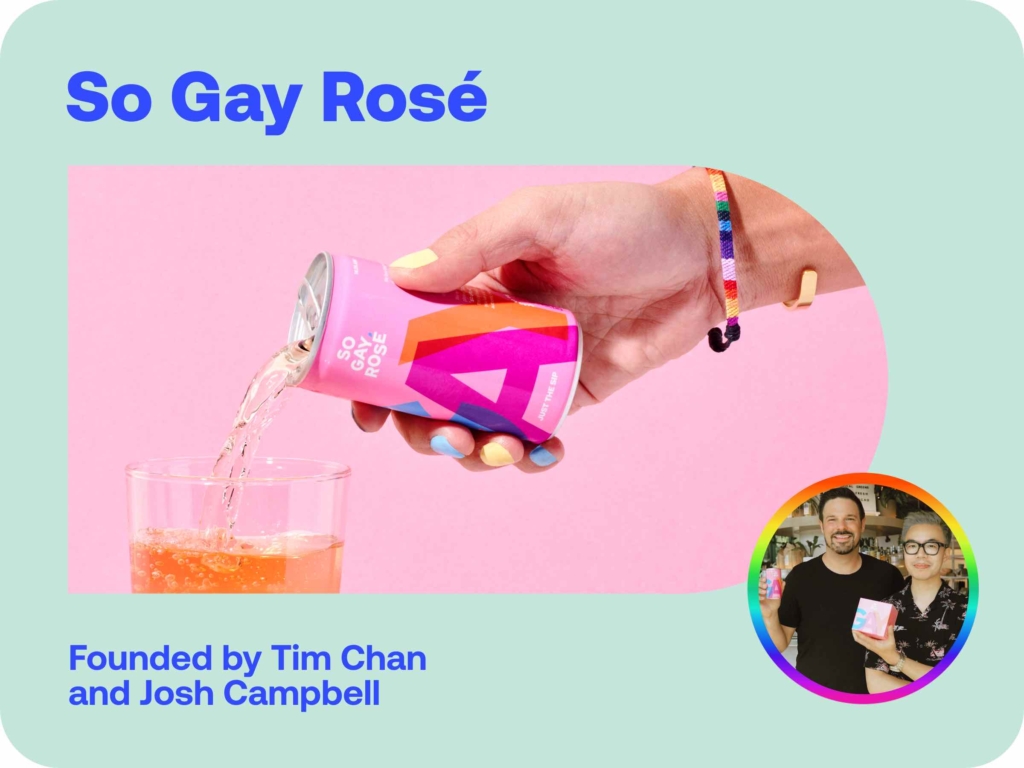 Tim Chan and Josh Campbell, So Gay Rosé
Website | Instagram | Facebook | Twitter | TikTok | Pinterest 
Friends Tim Chan and Josh Campbell came up with the idea for their beverage brand after an evening sipping none other than – yup – rosé. They were drawn not only to the catchy name, but the possibility of launching a product for the queer community, by a queer community member. (Tim is gay, while Josh is an LGBTQ+ ally.) The duo's approach to building their business was as breezy as its inception: Instead of spending years conducting market research or waiting for investors, they found a wine and co-packer they liked and self-funded the initial launch. 
"I think a lot of brands lose momentum because they overthink every step or psych themselves out from trying things/ideas," Tim says. 
That's not to say entrepreneurship is easy. So Gay Rosé remains a two-person side hustle, keeping things more than a little busy. Both Tim and Josh still work their day jobs as a magazine editor and entrepreneur, respectively. For now, Tim's using his 9-to-5 to help him get ideas and make connections, building So Gay Rosé's foundation until he's ready to work on it full-time. 
Tim and Josh see power in the name of their brand. For Tim, who didn't come out until he was 28, it's a reclamation of what his friends had used as a derogatory term. "A lot of my friends would use the phrase 'that's so gay' as a negative thing," he says.  "It conditioned me into thinking that being gay was looked down upon… With So Gay Rosé, we want to show people that being 'So Gay' is 'So Great,' and that it is something worth celebrating rather than hiding." 
So Gay Rosé has since expanded to a canned chardonnay. They've also collaborated with Hulu's Fire Island to concoct a special edition rosé and LGBTQ+-owned cookie brand Wunderleks to bring customers a kit to celebrate coming out, for those who choose to do so. Ten percent of the proceeds from the kit go to the LoveLoud Foundation, focused on supporting LGBTQ+ youth. 
Ultimately, Tim and Josh want to build community, which includes aligning themselves with other LGBTQ+ brands. As delightful as a can of cheekily-branded rosé is, "we're really using the wine as a catalyst for community – and conversation," Tim says. 
Tim suggests that other LGBTQ+ entrepreneurs also tap into their communities. "You're not alone," he says. "There are people like you out there who will support you, mentor you and embrace you for who you are and what you are doing."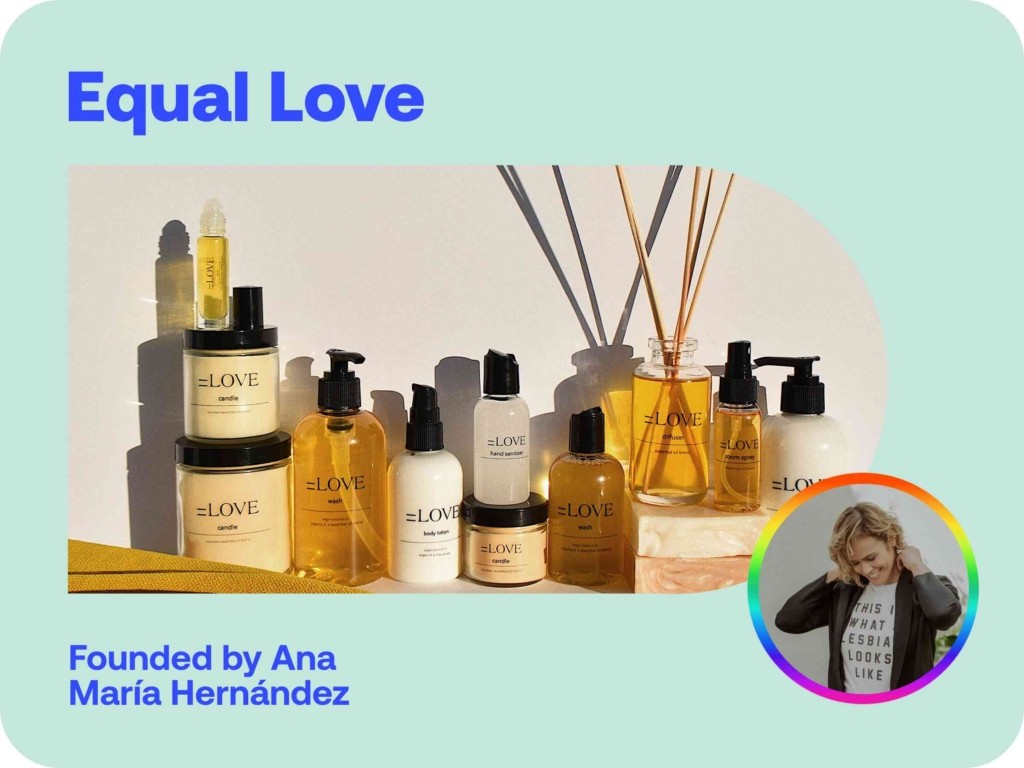 Ana María Hernández, Equal Love
Website | Instagram | Facebook
The personal care industry is steeped in gender, with "his" and "her" versions of everything from shampoo to razors. Fragrances are no exception: We tend to perceive sweet scents as "feminine," and musky, woodsy scents as "masculine." 
But Ana María Hernández of Puerto Rico wanted to upend these stereotypes. "I do not think aromas or colors should be gendered," she says. An out lesbian and an avid consumer of personal care products, she was tired of having only "women's" and "men's" products to choose from. 
When her employer didn't renew her contract after Hurricane Maria slammed Puerto Rico in 2017, Ana dove into her various side hustles, including genderless personal care brand Equal Love, which she launched in 2018. Two years later, the bootstrapped business earned a spot in the Pre18 pre-accelerator program and won a $20,000 grant, which went toward creating an online shop, developing branding elements, and adding new sales channels to clients. 
Equal Love's balanced essential oil blend doesn't fit into any gender category, nor does its minimalistic, neutral-toned branding and packaging. "To change traditional and erroneous mindsets about gender identity, gender expression, and sexual orientation, I believe that visibility is important," says Ana, who wants to use her products to educate consumers about these norms.  
She also believes in the power of visibility for LGBTQ+ entrepreneurs. "If your life, home, safety, or health is not in danger, share your story as much as you can," which can highlight how your achievements transcend gender identity and sexual orientation, says Ana, who also works as a lawyer-notary and translator, and runs a wedding officiant and planning business. (Phew!)
Looking ahead, Ana hopes to expand Equal Love's sales channels in Puerto Rico and beyond. Ultimately, she dreams of her brand creating a shift in the personal care industry, so that "clients understand that self-care and confidence is what should move you to use a product, rather than your gender identity or gender expression," she says.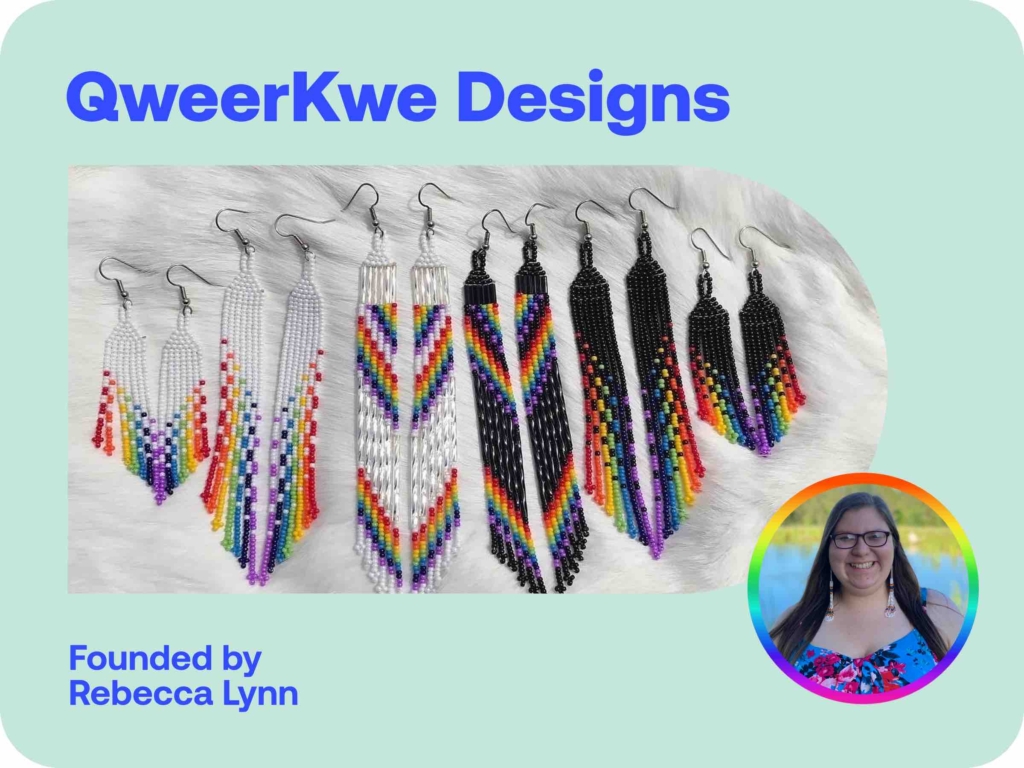 Rebecca Lynn, QweerKwe Designs 
Etsy Shop | Instagram | Facebook 
Rebecca Lynn, a queer, nonbinary, and Two Spirit member of the Little Traverse Bay Bands of Odawa Indians, comes from a long line of artists and beadworkers. Their aunt taught them to bead in high school, but they struggled with the patience and mindfulness the craft required. When the same aunt gifted them a set of rainbow beads four years ago, they picked it up again. 
At the time, Rebecca was finishing a degree at the University of Michigan while struggling to hold down a job and coping with anxiety, depression, CPTSD, and undiagnosed ADHD. "In more ways than I can count, this work saved me," they say. "Beadwork helped me be mindful, slow down, connect to my body, and release emotions I had been holding onto for far too long." 
They created their first collection of LGBTQ+ and Two Spirit Pride-themed beadwork and nervously shared it on Facebook, fearing backlash, even from their tribal community, which regarded Two Spirit people as spiritual leaders before settler-colonialism brought homophobia and transphobia. For the most part, though, their friends, family, and community flooded them with support. 
Today, they continue to create and sell intricate beadwork reflecting the fluidity of gender, sexuality, and Indigenous identity, for people across the gender spectrum. They credit their success largely to their community, virtual and IRL. Although they didn't have funding, or a business or marketing plan, their community sent small donations and spread the word about their business. 
On their Etsy page, Rebecca notes that their beadwork aims "to create space and representation for two spirit and LGBTQ Indigenous folks," who are doubly invisible in a country that rarely acknowledges Indigenous people at all. "My work serves as a reminder that queer and Two Spirit Indigenous people are still here today," they say. Besides integrating traditional beadwork with Pride flags, they're visibly out so Indigenous youth can see there's space for their queerness and gender diversity in tribal communities. Rebecca sees reclaiming them as a radical, decolonial act.
Rebecca welcomes anyone to buy and wear their pieces, as long as they're committed to queer and Indigenous rights and freedoms. Buying such items from non-Indigenous people and businesses, on the other hand, veers into cultural appropriation, they say. 
They urge other LGBTQ+ entrepreneurs, especially those with multiple marginalized identities, to trust their gut and go for it. "We live in a world that tells us our thoughts, feelings, and experiences aren't important," they say. "This simply is not true. Your work deserves to be seen and valued."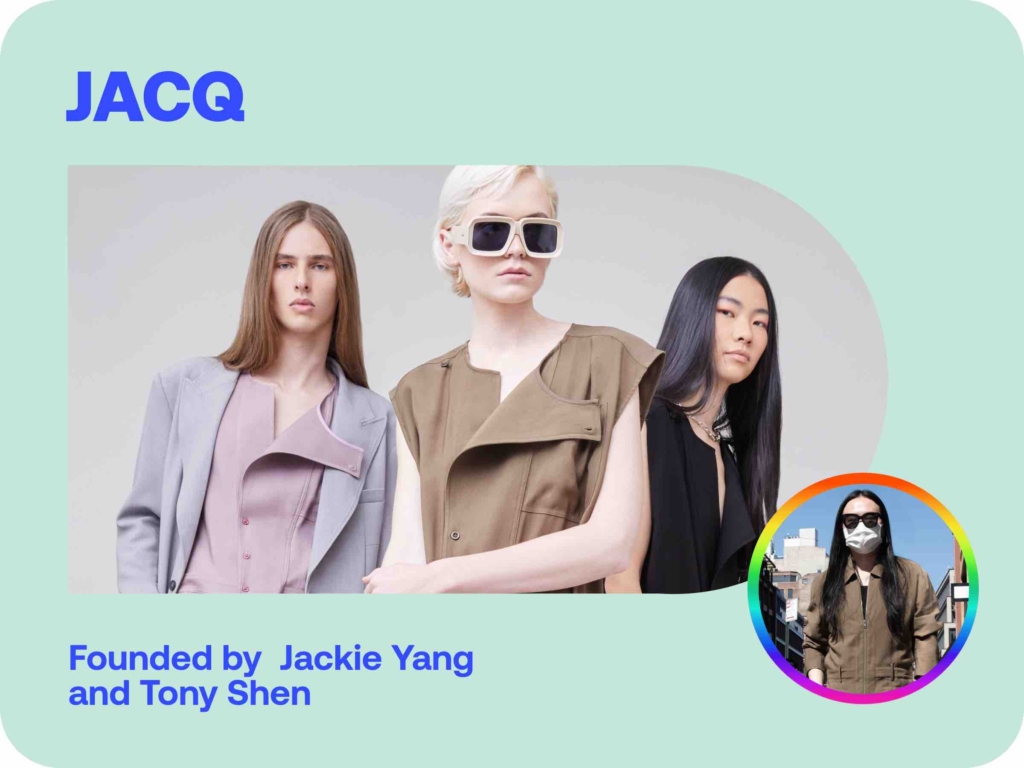 Jackie Yang and Tony Shen, JACQ
Jackie Yang's love for fashion began with a daily ritual: watching their parents, both in the fine jewelry business, get dressed. The art, culture, and fashion the Taiwan-born, Singapore-bred entrepreneur encountered while living in different countries further fed their passion. 
But their relationship with fashion was complicated. As much as it made them come alive, a lack of gender-fluid clothing options hampered their ability to express their true self, forcing them to create outfits with items picked from the men and women's sections. 
Hailing from a traditional, conservative upbringing, they set aside matters of gender identity for the moment and studied fashion design at the Fashion Institute of Technology, as well as jewelry design at the Gemological Institute of America. To learn the business acumen needed to succeed in the fashion industry, they earned an MBA from New York University. 
But then, Jackie returned to the questions of gender that preoccupied them growing up. They wanted to harness their education and professional experience to create the gender-fluid clothing options they'd lacked. "An outlet to create in truth was necessary," says Jackie, who now lives in New York City.  In early 2020, they teamed up with their former boss and LGBTQ+ ally, Tony Shen, to launch sustainable, gender-fluid fashion brand JACQ. 
JACQ offers bust-minimizing tops for those who want to look less feminine, for example, as well as tops with adjustable shoulder widths for those who want to look less masculine. Their sizing is also fluid, with Jackie fitting every piece on models of all genders. Pushing against fast fashion, the brand focuses on a few timeless, quality pieces that can be dressed up or down.
Jackie juggles JACQ with a 9-to-5 that involves working with other fashion brands, which has opened their eyes to the wastefulness in the industry. The problem is, many of the companies JACQ has to source fabric from require them to order a minimum amount that exceeds what they actually need. To reduce the frequency of orders, Jackie – who's been vegan and vegetarian since childhood – uses only a little organic cotton and recycled viscose as core fabrics season after season.
If Jackie had their way, JACQ would become a global lifestyle brand that collaborates with other brands or retailers that share their message of gender-fluidity, sustainability, and love for all. So far, they seem well on their way, with customers from as far away as Canada and Japan. 
"Be loving, confident, and stay true to yourself," Jackie encourages other LBGTQ+ entrepreneurs. "There is always a group of people in the universe who believe in what you do."