How Matt Cameron turned a hobby into a 6-figure photography business
With the rise of social media sites like Instagram and the fact that virtually everyone now has a high-quality camera in their pocket, more people are taking more photos than ever. In fact, it's estimated that humanity will take a jaw-dropping 1.4 trillion photos this year alone.
Photography is something that most people now do for fun. But how many can turn it into a six-figure business?
Meet long-time Invoice2go, a Bill.com company, subscriber, Matt Cameron, who recently joined us over Zoom from his truck – fresh from a photoshoot. 
Matt hails from Broken Bow, Oklahoma, where he has built a reputation as the go-to photographer for real estate, weddings, and family portraits. Broken Bow is a dream for nature lovers because of its picturesque forests, lakes, and iconic cabins. It's been featured in TV shows like Star Trek: Enterprise and the 2010 film Leaves of Grass – it's also become one of the area's fastest-growing tourist destinations.
Still, how did Matt build a six-figure photography business in a small town with no formal training? Long story short: curiosity, determination, and plenty of days beginning before dawn and ending after dusk. Here's how he did it:
An uncommon road to professional photography
Back as a teen, Matt had little interest in photography. Having a life-long love of horses, he started working as a horse trainer – and quickly began working for himself. 
"That's when I found Invoice2go," he explained. "When I started my own business, I just downloaded the app and billed my horse customers that way. It was super easy to use." 
Matt also supported his community through youth ministry, eventually becoming a pastor. A church member gave him his first camera. They were like, "We had this extra DSLR," he recalled. "We wanted to give it to you to take some pictures of your services."
Although the camera sat on the shelf for a few months, Matt eventually got on YouTube and taught himself the basics. Then, his mother-in-law – who had done some professional photography – chimed in with additional pointers. Soon, Matt was enjoying taking pictures to document church events and moments at home with his family . . . 
. . . And at that time, a new business idea started to bubble up.
The beginnings of a six-figure photography business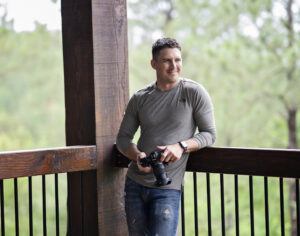 Matt's business developed organically. Valuing the new high-quality photos he was now taking of his family and community, he thought he'd offer his services to photograph families professionally. He explained, "I just put a little ad on Facebook, people started calling me, and it went from there." 
Other photography opportunities soon followed. "My sister-in-law worked for a property management company in the area. I don't know what happened with their previous photographer, but they called me and asked if I would do a shoot. I agreed, but, I mean, I didn't really know what I was doing or even have a tripod yet."
Matt also faced the common problem of uncertainty around what to charge. "I didn't know how to price myself," he confessed. "I started by asking what they were paying somebody else to do the job – then cut that in half. That's how I shot my first property and when I fired up Invoice2go again."
Figuring out business fundamentals on the fly
Building a reputation in real estate photography was by no means easy for Matt. It took humility, trial and error, and a ton of determination. 
Matt highlighted that because of the area's popularity for vacationers, photography competition was steep. "There were more established content creators here who had more experience, so I got started by pricing myself super cheap," he told us. "It was OK. You know, at that time, I wasn't used to having much."
However, Matt had no shortage of determination. "I really wanted this and I just started learning," he shared. "There were times I'd have to go back and completely reshoot properties because photos weren't up to the client's standards. Some people might have gotten angry about that, but I just said I was glad to go back and get it right." 
His willingness to accept criticism, paired with his communication skills and commitment to delivering work on time, enabled Matt to build his reputation and photography skills – and gradually raise his rates. 
Matt confided that the professional look of Invoice2go and the ability to accept online payments have been highly beneficial to his business. Because he never meets many of his real estate clients in person, looking professional online and accepting various payment options have been essential. 
"Invoice2go has been excellent for my photography business – even better than when I used it for horse training," Matt shared. "It's really professional and easy. Many people who hire me don't live here. They live in Dallas, for example, but they've got investment properties here. With Invoice2go, I can easily work with people remotely. Customers just tell me where to go and I'll shoot the property. When they ask, 'How do I pay you? Do I mail you a check?' I tell them I'll just send you an invoice and you pay online. It's super convenient."
Taking full advantage of everything Invoice2go has to offer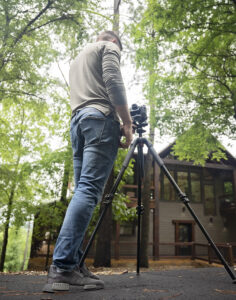 Beyond online payments and professional-looking invoices, Matt shared that newer Invoice2go features have also become assets to his business. "Invoice2go reviews have been super cool," he emphasized. "Also, I checked the box to allow customers to tip – that's actually made me a lot more money." 
He continued, "If you find me on Google, I've got maybe 10 reviews. And they're great – five stars and everything. But not very many people want to go out of their way to do that. With Invoice2go, whenever I send an invoice, customers can write me a review right there. It's so convenient for them and I have like 50 or 60 already. It's a confidence booster to know that my customers are happy. I look forward to being able to add reviews to my instant website so they can be more visible in the public eye, you know?"
Matt also leverages reports to stay on top of his monthly averages and motivate himself to set bigger business goals. "Another thing I love about Invoice2go is the reports," he stated. "I can easily pull them up and keep track of how much money I've made each month. I use it to estimate what my yearly income will be and to stay motivated. I'm always competing with myself and seeing if I can beat my monthly average."
Taking the leap to full-time photographer and growing to a six-figure business
From horse training to ministry to photography, Matt's always kept his community close to his heart. When he started doing photography professionally, he would often wake up to edit photos before sunrise, then shoot a cabin or property before beginning work at the church at 8 a.m. Then, after finishing at 4 p.m., he'd shoot for the rest of the day until sunset – and do it all again the next day.
When Matt decided his photo business had potential, he wanted to maintain his responsibilities to his church community while having more time for photography. While taking the leap to full-time work caused some anxiety, Matt now sees that as a defining moment.
"Last year was my first six-figure year – and I'm just so thankful."
Being full-time in photography has allowed Matt to take on more clients, turn around work faster, and spend more time with his family. Matt said, "That's when this felt like my career took off. I saw probably a $50,000 a year increase in revenue. Last year was my first six-figure year – and I'm just so thankful."
Looking forward to the future and focusing on work-life balance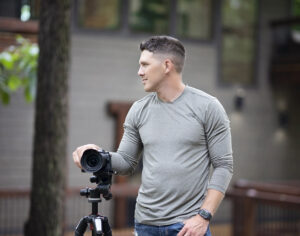 Broken Bow, Oklahoma and the surrounding areas continue to grow quickly – and the need for real estate photography grows along with it. Matt told us, "There are so many new developments coming in. Just now, 1,000 acres are being developed for cabins."
With all this growth, Matt shared hopes to expand his business into an agency. "The way it stands right now, I'm out of hours," he explained. "I would like to outsource some editing, start training assistant photographers, and develop a team. It would be great to eventually not have to be present all the time and I could free up time to be home with my wife and two little girls. You know you don't get those years back."
At Invoice2go, we're impressed by Matt's perseverance, dedication, and accomplishments. We hope to continue supporting the success of his business for years to come. Our mission is to amplify the voices of small businesses and independent professionals like Matt – and continually deliver the best tools to simplify running a business and getting paid.
Looking for more inspirational stories, tips, and the latest Invoice2go updates? Join our fast-growing community for expert small business tips and connect with other trail-blazing business owners.