How to run a successful Small Business Saturday sale
Small Business Saturday (SBS) is just around the corner! It's an opportunity for you to promote, boost sales, extend Black Friday, and kick off the holiday shopping season. If you're looking for ideas on how to run a successful Small Business Saturday Sale, we've got plenty of inspiration right here!
What is Small Business Saturday?
American Express created Small Business Saturday on the heels of the 2010 recession. SBS happens on the Saturday after Thanksgiving (the day after Black Friday and before Cyber Monday) to encourage holiday shoppers to "Shop Small" – in other words, to purchase from small businesses.
The movement has gained significant ground year over year. Last year alone, the event reported more than $17.8 billion in sales. Almost 60% of small business owners agree that Small Business Saturday is a massive part of their yearly holiday sales.
According to data compiled by American Express, 75% of consumers state that they prefer to shop local small businesses if it's possible to do so.
Whether your small business is purely local, online, or a bit of both, there are loads of ways you can participate in Small Business Saturday that will boost not only your bottom line but also your brand awareness.
 It's our mission at Invoice2go, a Bill.com company, to support small businesses. Are you in? Let's ride!
8 great ideas for a successful Small Business Saturday sale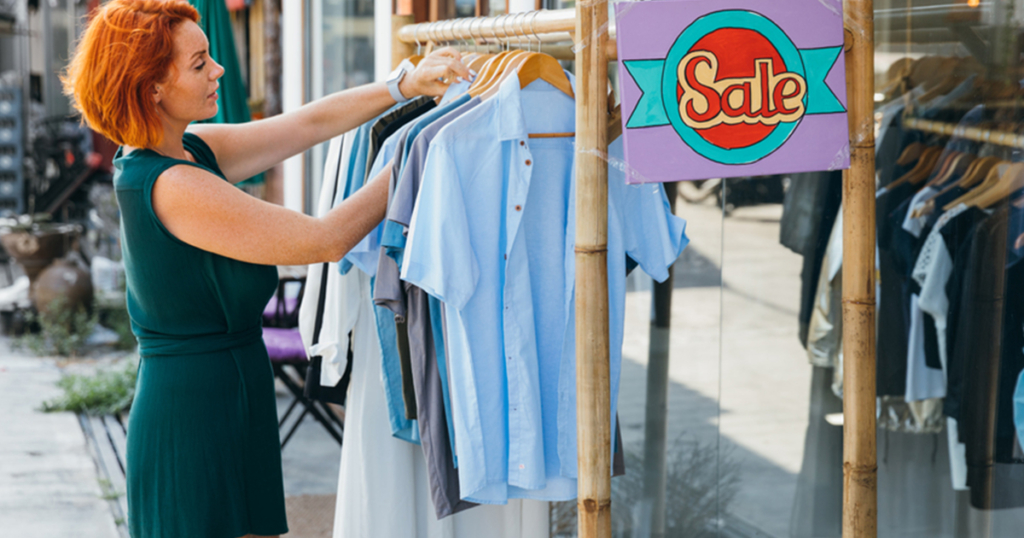 Here are eight ways your business can participate, promote, and drive traffic to your store during this year's Small Business Saturday
1. Make it an event
Creating an event on social media is a great way to boost awareness of your sale. People will be avidly searching for deals around this time, so the earlier you can get your event up and posted, the better.
Use SBS-specific hashtags like #AmexSBSChampion, #ShopSmall, and #SmallBizSat to make your event searchable, especially on IG and Twitter.
Here are some ideas to help you flesh out the party vibe:
Update your social media and website. Be consistent; put your branding front and center. Use hashtags on social and always link back to your website. Be as detailed as you can about what people can expect when they choose to shop with you.
If you're an online store, add a special discount code they can use at checkout on Small Business Saturday only.
Brick and mortar stores might advertise a promotional phrase to get an extra discount or special gift. Get creative! The more fun it is to say, the more action you'll get. Smiles trump just about everything!
Decorate for the occasion (if you have a physical location). A festive party atmosphere always draws people in. It will also help you stand out from other businesses on the street.
Music is a wonderful thing. It brings people together, encourages them to stop and listen, and fills the soul with joy. Think about hiring a local musician or two to come in and play for a couple of hours. Live music is a draw in itself—and you'll undoubtedly be helping a local musician, most of whom were inordinately impacted by the pandemic closures. Encourage them to sell their CDs and other merch so they can make a few extra bucks.
Create activities that are appropriate to your business model. For example, if you're a gourmet food store, you might think about having a cooking or food prep demonstration, or maybe a primer on how to pair wine with cheese. Think about your clientele and put together fun, easy activities they'll want to show up for. Stick with what you do best, and you'll always win.
2. There's strength in numbers: team up with other small businesses in your area
Here are a few ways you can pool resources to delight your local clientele and boost business for everybody:
"Shop small" passport. Many communities have had great success with group promotions like a "shop small passport." Each participating business gets a page in the passport to promote an offer, discount, or specialty product. Passport holders collect "stamps" at each location with the object of filling up their passport to get bigger discounts, win a prize package, or get a gift certificate to be used at a later date.
Bingo card. Alternatively, you could do a bingo card with different levels of prizes for filling up a row, a box, an X, or the whole card.
Combine services. Team up with other businesses to complete a package. Examples could be a bottle of wine from a wine shop with a take-out meal for two from a local restaurant or deli and a fully-equipped picnic basket from the kitchen store.
Keep it as simple as possible for the best results. The more rules you have, the harder it will be to execute. Think "lowest common denominator" to ensure the program is understandable to anyone (think like you're explaining things to a child and you're in the ballpark).
Lastly, don't forget to promote your event on social media. Use Small Business Saturday hashtags as well as any that are specific to your local area.
3. Offer a special Small Business Saturday discount
Everybody loves a good deal! Ostensibly, this is why people come out in droves on Black Friday and Small Business Saturday, so don't disappoint them!
Here are some tried-and-true special offer ideas, but don't be afraid to get creative. You know your people—what do they get excited about?
Buy-one-get-one (BOGO—second item either free or heavily discounted)
Discounts. Choose a specific product or service to mark down. It could be your most popular product or a hidden gem that you want to promote.
Gift with purchase. Everybody loves free stuff. Plus, it's a chance to give them something to remember you by. Branded giveaways are especially great if they are practical. Think about what you could give them that they'll use every day, like a calendar for the coming year, a notepad, pen, or even a coupon for a discount in the new year.
Free workshop. What's your specialty? Are there projects you can offer as a DIY for your customers? It's a great way to bring people in and show them your expertise. Art supply stores, pet stores, kitchen stores, craft stores, fabric and yarn stores, print shops, restaurants, home winemaking or beermaking stores, hardware stores—whatever your niche might be, there's probably something you can teach. Once you get them hooked, they'll always look to you for ideas and advice.
Raffle ticket entries with purchase. Do you have a high-ticket item you can give away? Think about what you could raffle off and offer X number of entries with each sale. The more they spend, the more entries they receive and the more chances to win.
4. Get your community involved in supporting local businesses
There's nothing better than user-generated content to expand your reach. Let your loyal customers (and anyone interested in getting a little recognition) put the word out in exchange for deep discounts, upgrades, or premium gifts with purchase.
For example, you could offer a 25% discount to customers who check-in at your store on social or post a picture of themselves on social wearing/using your products and tag your business. In addition to the discount, you could also offer each participant a chance to win a bigger prize or discount by choosing one winner randomly from all entries once the promotion is done.
5. Give back to the community: tie your Small Business Saturday sale to local businesses, causes, or charities
If you have a cause that's dear to your heart or that of the community, think about donating a portion of sales to a local charity or non-profit group. This promotion could also tie into Giving Tuesday—which follows Black Friday, SBS, and Cyber Monday—you'll know what makes sense.
Here are a few popular ideas for giving back:
Humane society or spay and neuter clinic
After school programs
At-risk youth programs
Sports programs and facilities
School music programs
Meals on Wheels
Library
Foodbank
Warm clothes for kids
Toys for Tots or similar holiday gifting program
Local hospital or hospice
Seeing-eye dogs
Pets for Vets
Local free clinic
6. Spread the word: make the most of your online presence
Leverage your following to get the word out on social media and elsewhere on the web. Be sure to use SBS hashtags in all your posts, and try out some of these strategies:
Create a Facebook event. Make sure you use an eye-catching cover photo that lists all the exciting details. Boost the event to extend your reach and encourage new business.
Use your online listings to promote your event. Google My Business is just one—where else are you listed? If you "own" your profile on Yelp, Trip Advisor, or any other related reviews site, you can add your event to boost exposure. Anybody specifically searching for you will see your event.
Put your event on your homepage. Be sure your event features prominently on your website's home page. That way, all your site visitors will be hip to your plans, and it might just encourage them to drop by in person.
7. Connect with the press
Do you have a local newspaper, magazine, or radio station? Local media is always an excellent conduit for connecting with customers who might not be on your preferred social platform.
Plus, keep in mind that most community news outlets are always in search of a good story. You can talk about how you're giving back to the community (see #5 above) or get together with other local companies to discuss your exciting combo offers or SBS passport (see #2 above).
Offer to do an interview, either representing your own business (maybe they can do a series to spotlight other local small businesses) or to lend voice to the larger group.
Get listed. If a local community publication has a listing for Small Business Saturday participants, ask to be included. If they haven't yet planned a listing, suggest it!
Rally the troops. To make the most of it, prompt other local small businesses to get on board too.
Do it now. One caveat – if you decide to go this route, get your press release together and put it out there quickly, as most print publications need at least a week of lead time to get it into their news cycle.
8. Run inexpensive online ads for your community
Paid digital ads are incredibly affordable—and highly effective because you can target them to a very specific audience. There are many options to consider, and if you partner with other small business owners in your community, you're almost guaranteed a good return on your investment.
If you don't have a lot of experience with digital advertising, get together with your local partners and talk about it. Chances are you've got plenty of expertise to draw from, so don't limit yourself to social. Search engine marketing is a great way to capture a local audience, and chances are, the people you're trying to reach are also looking for you!
Where online ads are concerned, there are a few options to consider. To ensure the best coverage, use them all.
Send out an email blast. You likely have an extensive email database—put it to use! The best part about email marketing is that it gets your message in front of people who already know how awesome you are. For best results, use Small Business Saturday in your subject line.
Social media ads on Facebook and Instagram are a great way to get in front of the right audience. Be sure to use a high-quality image to make your ad stand out.
Craft a series of posts to support your ad or go live with a behind-the-scenes preview of your SBS preparations. Build excitement!
Create a targeted Google Ads campaign. Google Ads leverages specific keywords and search phrases to get your ad in front of a highly targeted audience. Banding together with other local businesses will reduce competition for those keywords, giving your ad a better chance of getting in front of the right people.
Place an ad in the local newspaper. Most news publications have an online version. Advertising digitally is generally a lot less expensive than a print ad—and you're getting the benefit of their circulation. We're here to support small businesses
We're here to support small businesses
To celebrate Small Business Saturday, from now until Nov. 29th, get 20% off Invoice2go with promo code: smallbizsat. Manage customer relationships, send invoices, accept payments, improve cash flow, and more – all in one app!