Small Business Spirit: Ife Durosinmi-Etti and Herconomy
The strides we've made in bridging the gap in men and women's economic outcomes are worth celebrating – but there's still plenty of room for progress. While women make up a growing proportion of skilled professionals, few occupy managerial positions, and their incomes continue to trail behind those of men, according to the World Economic Forum. The organization predicts the economic gender gap will take another 268 years to close, which doesn't yet fully account for the pandemic's outsized toll on women, especially women of color. 
Invoice2go, a Bill.com company, subscriber Ife Durosinmi-Etti is on a mission to close this gap, which she traces to witnessing her mother struggle to make ends meet after her parents' divorce. A lack of financial literacy and access to finance was to blame, she says.
Committed to helping other women avoid a similar fate, Durosinmi-Etti founded Herconomy – a financial platform and community focused on women's economic empowerment – in 2018. Initially, membership required a fee, which allowed entry to professional skills workshops and other events. A year later, the Nigeria-based company expanded its reach with a freemium model. Members can now browse postings for jobs and other opportunities for free, but paying members can access workshops, as well as discounts at hotels, salons, and other businesses.
"We're building a digital bank for women," says Durosinmi-Etti, a Winter 2021/2022 Nasdaq Milestone Maker, featured on the iconic Nasdaq billboard in Times Square on International Women's Day earlier this month. "But importantly, we understand that women cannot be empowered by bank accounts alone….Community mentorship, opportunities, access to finance – all of that is important for a woman to thrive." 
In its first year, Herconomy – then known as AGS Tribe – grew from zero to 1,500 members. By December 2021, a year after the launch of its mobile app, membership had expanded tenfold. Around the same time, Herconomy had raised $600,000 in pre-seed funding in just 24 hours, primarily from its own community members. Continuing its meteoric rise, the company just hired an in-house engineering team, bringing its employee count to nearly 30, and launched a feature that allows all members to earn high interest on their savings.
This Women's History Month, we're celebrating Durosinmi-Etti's crucial work to empower women with the professional and financial resources they need to succeed. We spoke with her about her journey from employee to entrepreneur, the importance of mentors, and the power she found not in overcoming her fear, but moving through it. 
Before launching Herconomy, you were working a 9-to-5 in the beverage industry. What led you to make the leap to entrepreneurship?
In 2017, while I was working in corporate social responsibility at Heineken's Nigerian operating company, Nigerian Breweries, I started a side hustle making and selling children's furniture, called Parliamo Bambini. The idea for it took shape when I had my daughter and ordered her furniture from the UK. When it arrived in Nigeria, it was seized, and I had to pay what pretty much amounted to the price of the actual item because it was considered contraband. I wondered, why is kids' furniture contraband? I decided to start making furniture for children myself because I knew there were a lot of people like me in the country having kids, and I didn't want them to go through the stress I went through. 
The business won a couple of grants. People asked me how I heard about them and applied to them, so I decided to write a book about the process called Accessing Grants for Startups, which gained a lot of traction. The governor of my state even did a forum on it. I left my job to focus on the furniture business, which had started growing and getting attention. It was a step I never thought I would take. I initially wanted to work in a 9-to-5 until I retired, but then I got that nudge. 
What inspired you to start Herconomy? 
My dad was a politician, and my mom was a lawyer who left her career to focus on taking care of us children. After about 17 years of marriage, my parents split up, and my mom was back to square one. She had no savings and no knowledge of financial literacy. She didn't have enough capital to start a new business. I saw her life literally going in shambles very, very quickly. 
Thank God she's a hustler, so she was able to bring herself back up to speed, but she really suffered. I didn't want any other woman to go through what my mom went through. I saw a lot of people around me with similar experiences. Even if their parents hadn't separated, maybe their dad lost his job, and he'd been the sole provider. 
Meanwhile, when I was working at Nigerian Breweries, I couldn't save part of my salary. I knew there were so many women like me, living paycheck to paycheck. When I quit my job to focus on Parliamo Bambini, I decided to start saving, even though I was earning way less.
Within a year of starting Parliamo Bambini, I knew I had a passion for women's economic empowerment. I started Herconomy, or AGS Tribe at the time, and we just started growing. 
Why was it important for you to create financial resources specifically for women? 
Beyond my own story,  55% of women globally don't have access to bank accounts, according to the World Economic Forum. The statistics speak for themselves. If you don't have access to a bank account, obviously you don't have enough money, you're not financially literate, and you don't have access to buying property or other investment instruments. These are all factors that keep women behind.
I think the gender financial literacy gap stems partly from the long-standing belief that women belong in the kitchen, not the workplace, which created a ripple effect of women not having access to money. Without access to money, how are you going to become financially literate? 
Another reason you don't see many women becoming financially literate or in top leadership positions is because at some point they've had to drop off. Initially, you see a lot of women applying to jobs, but as they start to progress in their career and start getting married, they start dropping off because they now have other priorities. There's an unfair expectation that they have to take on the majority of the childcare, the housework – and they're not paid for that. 
How did you build Herconomy? 
In my book, I'd listed some grant and scholarship opportunities. People started asking me how to know whether a certain grant was open, when to apply, and how to apply in a professional manner. 
So I started an Instagram account named AGS Tribe. (AGS is the acronym for the title of my book.) Once a grant opportunity arose, I'd post something about it. At first, the content was free, but eventually I hired people to help me research the opportunities because I was still busy with my furniture business. But at some point, I couldn't afford to pay them myself anymore. That was when I had the idea of creating a paid community. 
Six months after creating the AGS Tribe Instagram account, I decided to register it as a business. We kept membership paid, but we realized we wanted to reach even more women, so we established a tiered membership model with an option that was free but still valuable. Last year, we changed our name to Herconomy, which more clearly reflects what we're doing. 
What strategies have you found helpful in growing Herconomy?
Hiring the right people has really helped us understand the magnitude of what we're doing. We ask ourselves, can this candidate fit into our culture? Are they people of service? Do they have a spirit of excellence, as well as a "mamba mentality," where they don't give up on a problem until they find a solution? I'd choose attitude over skills because if a person has a good attitude, they'll be able to learn whatever you want them to learn. 
Mentors have cut my journey into shorter sprints. When I was about to start fundraising through a UK-based crowdfunding company, one of my mentors suggested going with a Nigerian company so we could avoid additional charges and be paid in local currency. Also, we would've needed to raise half the money before we could raise the rest on the UK platform, but we raised the money so quickly, there was no need. I wouldn't have known that if I hadn't spoken to my mentor. It was a much better, more seamless process than if I'd fundraised abroad.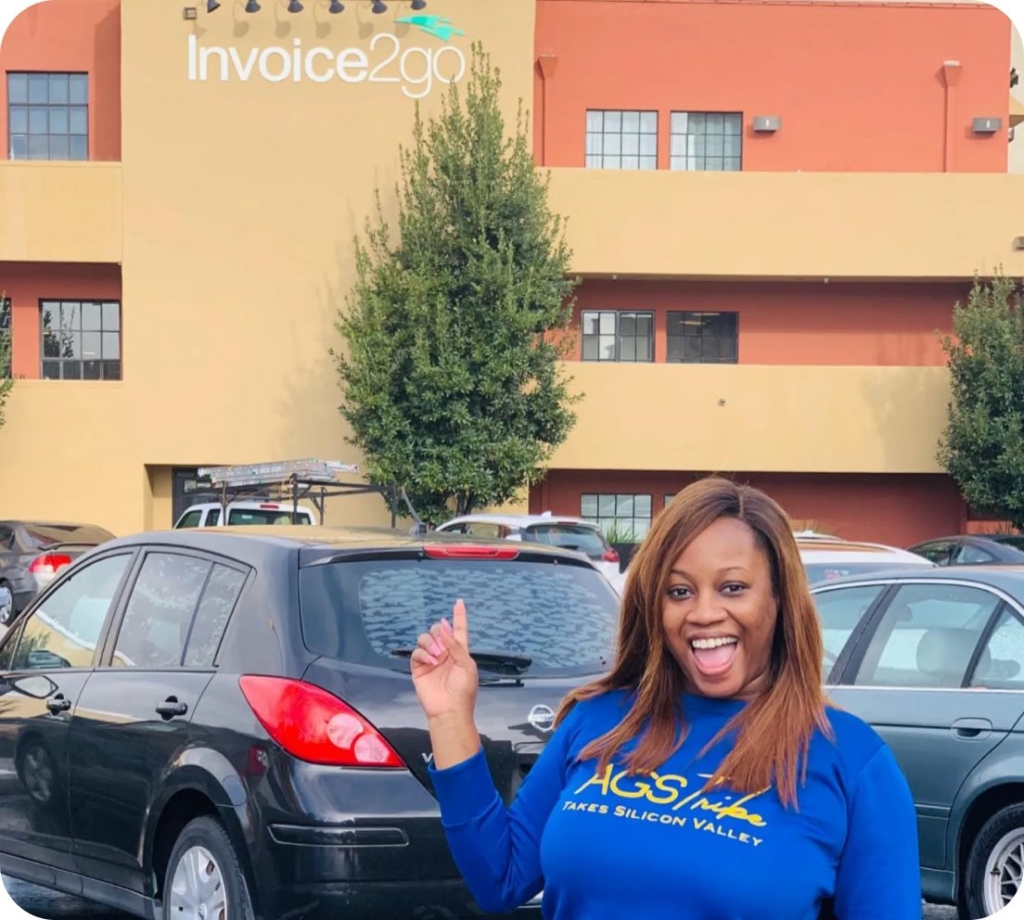 How has Invoice2go helped you as an entrepreneur?  
I used it mainly for Parliamo Bambini. We haven't needed to create invoices at Herconomy, but we plan to, now that people have started asking us for résumé review and other services. I already downloaded it again, and I'm about to add our logo to the invoices. 
I chose to continue using Invoice2go because, like the name says, it lets you invoice on the go – I used to drive a lot and didn't want to pull out my laptop to create and send invoices. Even now that I have a driver, if I get a call from a customer requesting an invoice, I don't have to wait until I get to the office or my next stop. I can send an invoice on the spot from my phone, and it's very professional and customizable. The best part is that it can automatically send payment reminders to customers. It just makes the process easier than copying and pasting into an Excel sheet. 
What advice would you give other women fintech entrepreneurs? 
Nobody is going to hand anything to you. You have to collect what you deserve. 
In 2017, I was selected as one of the top five entrepreneurs in my grant cohort. We were asked to pitch to 1,000 people, plus about 150,000 spectators. When I arrived at the venue, I chickened out. I was like, "There are too many people. I don't have my product. I've already collected my funding and met other entrepreneurs. I don't need to do the speech."  
The people involved in the program told me to just do it. I was there already. I had nothing to lose. So I did it, and I won. That experience changed the trajectory of my life because I realized all I needed to do was to do it afraid, and whatever happened, happened. No matter how much I was shaking, I still had to tell my own story. Since then, I started believing more in myself.
What are you most excited about? 
I'm excited about seeing more women take advantage of opportunities. I already see the impact of what we've created. 
So far, we've provided professional training to over 85,000 people, 90% of whom are women. We've seen tremendous change in their lives. They have a better understanding of how to perfect their résumés, for example, or how to ace an interview. I've seen a woman who started out with nothing quadruple her business revenue. I've seen women hire more people and transfer their kids to better schools. We're Amazon's first recruitment partner in Nigeria, and seeing more women take advantage of its job opportunities on our platform is mindblowing. 
I'm seeing so many things happen. Being able to impact others' lives for the better – for me, that is everything.