Celebrating Black Business Month 2022: How to find support as a Black entrepreneur, or lend your support as an ally
This August marks the 19th anniversary of National Black Business Month, which honors Black Americans' long history of entrepreneurship, as well as Black business owners' contributions to their local communities and the United States economy. 
The annual observance took root when engineering entrepreneur Frederick E. Jordan found himself reflecting on the challenges he'd faced financing his business as a Black entrepreneur. In 2004, Jordan partnered with John William Templeton, president and executive editor of scholarly publishing company eAccess Corp, to start National Black Business Month to recognize and empower Black business owners across the US. 
As part of our mission at Invoice2go, a Bill.com company, to create a global and inclusive community, we want to highlight the contributions of Black business owners and share resources where you can find support as a Black entrepreneur, or lend your support as an ally.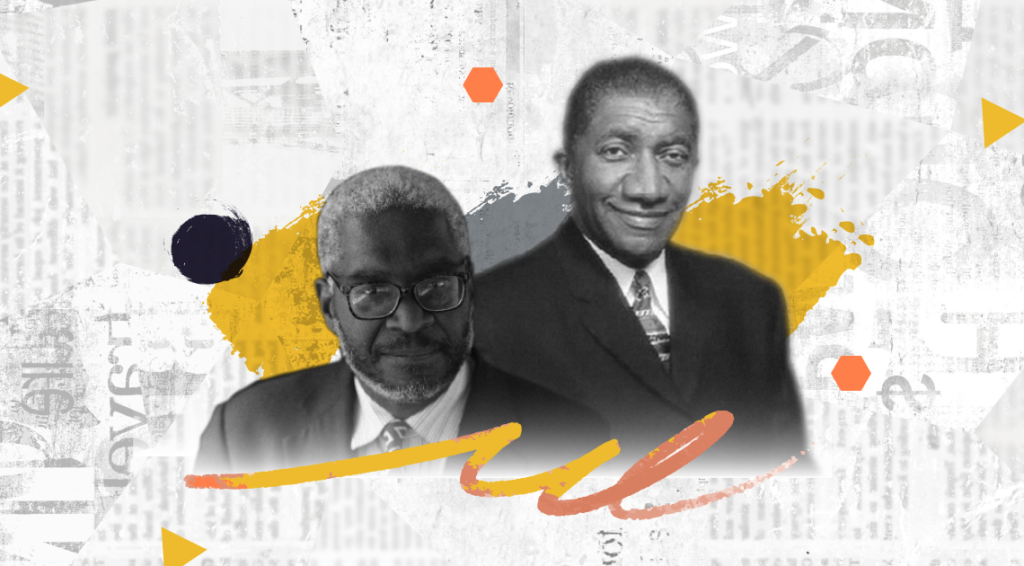 A closer look at the stats 
National Black Business Month is an opportunity to celebrate Black entrepreneurs while recognizing the inequities they still face. If you're a business owner, you're already well aware of the hurdles you need to clear to start, grow, and run a small business. Black entrepreneurs must clear these same hurdles while carrying the added burdens of personal and systemic racism. 
Although Black Americans account for 12.8% of the national population, only 2.4% of businesses are Black-owned, a Lending Tree study found. In contrast, white Americans make up 72% of the population, yet 86.5% of businesses are white-owned. These disparities stem from institutional and systemic racism, a legacy of slavery. 
Black entrepreneurs have a tougher time than their white counterparts accessing the capital needed to launch their businesses. Due to the racial wealth gap, many Black entrepreneurs don't have a "friends and family" network that can provide financial backing, as Fast Company points out. Banks are also less likely to approve them for loans, leaving them to turn to other funding options. Black women entrepreneurs face higher barriers still – it's not surprising that 61% fund their total startup capital themselves, as Babson College researchers found. 
COVID, which has taken a disproportionate toll on Black Americans, has only worsened these inequities. Black business ownership fell 41% from February to April of 2020 – while white business ownership dropped 17%, according to CNBC. Black-owned businesses were also five times more likely than white-owned businesses to not get any of the PPP funding they'd asked for, based on a survey conducted by 12 Federal Reserve Banks in the fall of 2020. 
That said, it's important not to overlook the resilience and resourcefulness of Black-owned businesses, despite these challenges. The number of Black small business owners was 28% higher in the third quarter of 2021 than it was in the year or so leading up to the pandemic, based on a UC Santa Cruz analysis of census data. That's a considerably bigger percentage increase than any of those seen in the number of Latinx, Asian, and white business owners during that time period. 
Black business ownership was already on the rise pre-pandemic. In 2019, there were 134,567 Black-owned employer businesses, versus 124,551 in 2018, per census data. Indeed, Black Americans have a history of entrepreneurship and ingenuity that stretches even further back. 
How can I find support as a Black business owner? 
You don't have to go at it alone as a Black entrepreneur. Here are networking opportunities, funding opportunities, and other resources to help you and your business thrive. 
Create community
Connecting with others who share your identity and experiences as a Black entrepreneur can help you feel encouraged and seen as you start and grow your small business. Joining a professional network is one way to start building this community.  
The Black Entrepreneurs Network and Black Business Association both offer access to networking opportunities for business owners across industries. Black Connect, an organization with a mission to close the racial wealth gap through growing the number of successful Black-owned businesses, focuses on low and moderate-income communities. 
Or you could join an organization specific to your industry, such as The Black Podcasters Association or African American Graphic Designers. Many cities, like Philadelphia and Los Angeles, have their own Black food entrepreneur organizations. 
Other organizations cater to specific groups in the Black community. If you're a Black woman, for instance, you might find community in The WELL, Black Girl Ventures, or Black Women's Network. 
Membership in a professional network typically requires a fee. For free options, look into Facebook Groups like the Black Owned Business Network, Black in Business, or Helping Black Business. 
Connect with mentors 
Getting guidance from more seasoned entrepreneurs whose identities and experiences mirror yours can be incredibly empowering and expand your vision for your own business. On a practical level, learning from their trials and triumphs can save you time and stress in the long run. 
Many professional networks, including Black Women's Network, The Black Podcasters Association, and African American Graphic Designers, listed above, have mentorship programs. The WELL and Black Girl Ventures, also mentioned previously, have accelerator programs for early-stage entrepreneurs. Likewise, Black Connect's Business & Entrepreneur Assessment can help you create an action plan if you're an aspiring entrepreneur unsure of how to start. Live in New York City? BE NYC can connect you to a mentor in your industry free of charge. 
Take advantage of funding opportunities 
Several funding sources have emerged to lower the barriers Black entrepreneurs face to accessing capital. Backstage Capital, a VC firm that invests in women, LGBTQ+, BIPOC, and other under-estimated founders, reviews funding applications on a rolling basis. Harlem Capital and Chingona Ventures also make an effort to invest in minority-owned businesses. 
If you're a Black woman entrepreneur, consider applying to Black Girl Ventures's crowdfunded pitch competition. You'll have three minutes to pitch your idea and three minutes to field audience questions. Check the BGV website periodically for open calls for submissions. 
If you want to go the grant route, SoGal, in collaboration with Winky Lux, Twilio, and other sponsors, awards $5,000 and $10,000 grants to Black women and nonbinary entrepreneurs, plus assistance navigating the funding world, and access to SoGal Foundation and SoGal Ventures for advice. 
The Minority Business Development Agency also gives grants to minority-owned businesses. Our guide to successfully applying for a small business grant can help you get started.  
Get listed in a Black-owned business directory
Listing your business in directories like Blax, Black Owned Everything, WeBuyBlack and Black Business Green Book can increase your exposure and connect you to vendors, suppliers, and allies who might not find you otherwise. 
As with professional networks, some directories are industry-specific. If you're a creative, consider getting listed in the Black Creative Database, searchable by profession, subprofession, country, and city. And if you're a disabled creative, you can apply to be featured on the Black Disabled Creatives platform. 
You could also explore getting listed in a directory of local businesses, like those for Black-owned businesses in San Francisco, Houston, and Chicago. 
Get Minority Business Enterprise Certification
If you qualify, Minority Business Enterprise (MBE) Certification gives you access to networking opportunities, listing in national minority supplier databases, and other benefits. Check out our detailed guide to getting MBE certified to learn more.  
How can I support Black Business Month as an ally?
As an entrepreneur and ally, you're in a unique position to celebrate and support  Black-owned small businesses in your community. Here's how. 
Shop Black-owned businesses 
Search the directories listed above to locate Black-owned businesses online and in your neighborhood. Find a Black-owned supply business in your area, and commit to supporting their business while supplying your own.
Get creative. If there's a Black-owned restaurant in your area, conduct staff lunches in their dining space or inquire about catering options. Does the restaurant offer gift certificates? Reward your employees with lunch or dinner from a local, Black-owned restaurant.
Pass the mic
Amplify the voices of Black business owners in your community. If a reporter requests  a quote or a business conference organizer asks you to speak on a panel, direct them to a Black entrepreneur instead. Leave positive reviews of Black businesses in your area. In short, create space to center Black entrepreneurs. 
Follow relevant hashtags
Sometimes, following the crowd is a good thing. Look for social media hashtags such as:
●  #NationalBlackBusinessMonth
●  #BlackBusinessMonth
●  #SupportBlackBusiness
●  #SupportBlackowned
●  #Blackmakers
●  #ShopBlackOwned
While exploring these hashtags, you may even discover other hashtags unique to your community or city. Use these hashtags on your company's social media pages, too, to raise awareness of neighboring Black-owned businesses. 
Partner with Black-owned businesses
Consider partnering with a Black-owned business to work on a project or offer some sort of promotion. For instance, you and a partner business could promote a local charity organization. Or if a customer shops at a Black-owned business, you might offer them a discount on their next purchase in your store. These sorts of partnerships can increase the visibility of neighboring businesses and promote a healthier community-wide business climate.
Make the 15 Percent Pledge
Following the murder of George Floyd, the 15 Percent Pledge began challenging large retailers to devote at least 15% of their retail space to Black-owned businesses. According to CNBC, the project has enjoyed considerable momentum and currently has 25 retail partners nationwide.
This might be something to consider for your business, too. As a small business owner, you might not be the immediate demographic for the 15 Percent Pledge – but you can still support Black-owned businesses by stocking items manufactured by Black entrepreneurs.
Enjoy Black Food Fridays
KJ Kearney is a writer and activist from Charleston, South Carolina, who quickly noticed that COVID dealt a heavy blow to Black-owned restaurants in his community.
Raising support through social media was a start, but for Kearney, it wasn't enough. Using Instagram as a platform, Kearney began "Black Food Fridays," which raised awareness for Black restaurant owners in his area and nationwide.
Since then, Black Food Fridays has morphed from a social media movement to a fully-developed business. Black Food Fridays helps connect people to Black-owned restaurants across the United States, relying on fact-sharing through TikTok, a mailing list, and more.
As a business owner, you can not only refer to the Black Food Fridays website yourself, but encourage others to check it out, too, and find ways to support Black restaurants now that pandemic restrictions have largely eased up. 
Download EatOkra
EatOkra provides a similar service to Black Food Fridays, only this directory of Black-owned restaurants comes in the form of an app for your smartphone or tablet. Founded by married couple Anthony and Janique Edwards in 2016, EatOkra provides a directory of more than 9,500 restaurants and food trucks across the US.
This August, download the app. If your city is represented by this directory, order from these restaurants during Black Business Month. Better yet, make this August a jumping-off point and develop a habit of frequenting these eateries all year round. Tell your friends and help spread the word about the Black-owned restaurants in your area.